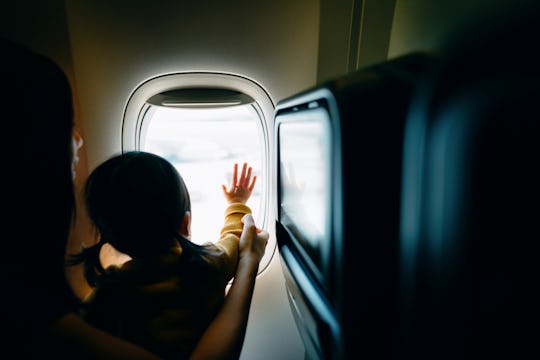 d3sign/Moment/Getty Images
How To Fly Safely With Kids During The Coronavirus Pandemic
Whether it's to visit family across the country or to enjoy a family vacation somewhere, the coronavirus has upended a lot of travel plans. But, since home indefinitely doesn't necessarily work for every family, it's helpful to know how to fly safely with a child during the coronavirus pandemic. Like many activities, you can't completely eliminate risk, but you can do things to mitigate it.
Since the start of the coronavirus, there has been a big question mark on whether or not it's safe to travel. Airlines and airports have implemented new safety measures for passengers, but it's still not a "low risk activity," especially given the rising number of cases in the US, infectious disease expert Dr. Emily Sickbert-Bennett tells Romper in an email. This is particularly true for younger kids. "The exposure risk in airports is primarily related to the large volume of passengers from various locations congregating in an enclosed space," explains Dr. Sandra Kesh, an infectious diseases specialist in New York. "Add to that picture a child who may or may not keep their mask on at all times, and who won't think twice about touching a potentially contaminated surface, and you have the makings of a potential exposure."
Knowing this, one of the best ways to mitigate risk is to get your little one, and yourself, prepared to follow extra safety measures outlined below before travel day. Yes, that may mean making many pretend airplane trips in advance.