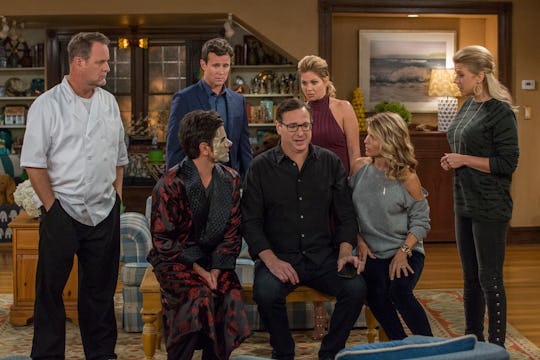 Mike Yarish/Netflix
Here's How To Get Tickets To The Tapings Of 'Fuller House' Season 4
The '90s was an era of amazing television, and not just because TGIF was a thing cherished by all. The decade also gave us the return of bell bottom jeans, Saturday morning cartoons, and actual live studio audiences for so many primetime comedies, including Full House. And now that its modern day spin-off has welcomed live audiences, you might be wondering how to get Fuller House Season 4 taping tickets yourself now that the series has been officially renewed.
When the Netflix Original premiered in 2016, it already adopted the live audience style that its predecessor did for so many years, and at the start of filming Season 2, Fuller House began taping at the Warner Bros. studio once again and continued to allow audiences to watch and provide authentic laughter, as opposed to a laugh track.
To get tickets for a taping of Fuller House Season 4, you have to go through a company called Audiences Unlimited, Inc. which provides tickets to a number of other shows and talk shows that have live studio audiences. But it's not as simple as signing up and showing up or purchasing tickets online. The good news is that it's free to attend tapings of an episode, but the bad news is that, even with a ticket in hand, it's sometimes on a first come, first serve basis.
For each episode of the season, the tickets will be made available on the website 30 days before taping. Those who are able to get a ticket online (spoiler alert: they often run out within 5-20 minutes of being posted) are advised to show up at least 90 minutes before the time on the ticket and wait in line to be let in. In the event that all of the tickets are gone by the time you go online to reserve your own, you can request a standby ticket which will get you a line number when you check in. This doesn't guarantee you a spot in the audience, but it does increase your chances.
The website also says that for Fuller House specifically, the minimum age requirement is 12 years old and anyone attending who is over 18 must bring a photo I.D. in order to properly check in before finding a place in line. According to Michelle Mink on MyBelleElle.com who attended more than one taping of Fuller House, it's recommended that you arrive as early as possible to check in and that "last season people began lining up as early as 6 a.m."
While you don't absolutely have to arrive that early, you should also know that any guests of the cast members or crew are let in before anyone else, and then the general ticket holders are permitted in next, followed by standby ticket holders. But, Mink wrote, one standby ticket holder arrived at 8:30 a.m., only to be left waiting to be let in until 8:30 p.m. when someone finally left, freeing up a seat.
Fortunately, there is another way to potentially get tickets for Fuller House Season 4 that might allow you faster access than even general ticket holders. Occasionally, the Twitter page for Audiences Unlimited will have giveaways for free VIP tickets for different TV shows, so it's never a bad idea to habitually check that out. Right now, there are no future show dates listed for filming, but since the tickets do go fast, it'd be wise to keep checking back.
Fuller House definitely wouldn't be the same without the authentic sound of a live audience, much like the original show that started it all for most of the characters. If you have the time to wait outside of the studio to try and get in for a taping, spending a few hours of your time is definitely worth it to be able to see Uncle Jesse in the flesh or watch D.J. and Steve finally get married before anyone else. OK, so that hasn't been confirmed or even hinted at just yet, but as a firm supporter of D.J. and Steve since they started dating during her Full House class trip to Spain, a girl can dream, right?
Check out Romper's new video series, Romper's Doula Diaries:
Watch full episodes of Romper's Doula Diaries on Facebook Watch.