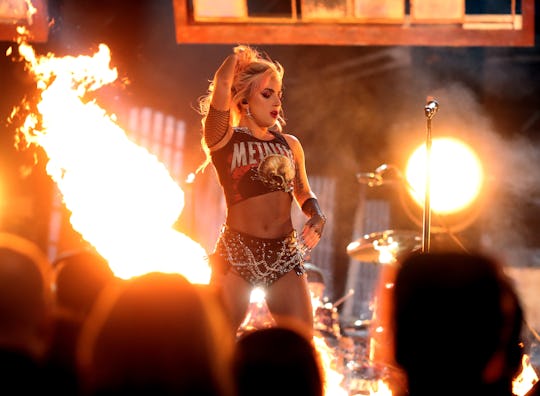 Christopher Polk/Getty Images Entertainment/Getty Images
Here's How To Snag Lady Gaga Coachella Tickets
Loyal Beyhive members who shelled out big time for Coachella tickets found themselves thrown out of formation with the news that their queen, Beyoncé, had cancelled her performance at the music festival last month. And ticket scalpers far and wide were likely similarly demoralized: According to Billboard, prices on the secondary market for the sold out, two-weekend April event plunged 10 percent when Bey pulled out. But another legion of adoring fans may surge to scoop up those tickets, as Lady Gaga announced Tuesday that she will assume Beyoncé's prominent position. So, Little Monsters, here's how to get those Lady Gaga Coachella tickets that some in the Beyhive may now be more than willing to sell.
Beyoncé had been scheduled to headline both weekends of the music festival, April 14-16 and 21-23, since before she announced that she was pregnant with twins Feb. 1. And even though she played no small part in all 99,000 tickets' selling out in three hours in early January, the inevitable, apocalyptic horror soon happened: On her doctors' orders, she bowed out of the roster until 2018, when she will anoint Indio, California, with her greatness. But, for 2017, another preeminent talent will grace the stage in her place. "Let's party in the desert!" Gaga tweeted Tuesday in announcing that she'll join Kendrick Lamar and Radiohead as one of Coachella's elites.
But even with the price sag caused by the Beyoncé-shaped void in the lineup, securing tickets to attend the extravaganza and see Lady Gaga certainly won't be cheap. At face value, general admission passes for either of the weekends sold for $399, and those are no longer available. With the scalpers involved, those prices are inflated, Beyoncé or not — and the tickets themselves are a little more challenging to find. Many of the general admission passes on Vivid Seats start at around $500 and go way, way up, especially for those who may want to try and snag VIP passes. Three-day passes as well as shuttle passes are available on TicketsNow — for now, at least. StubHub also has a very limited selection of shuttle, VIP parking, and festival tickets for sale.
Although having Beyoncé there would have taken it to the next level, Coachella is still a big freaking deal with an long and impressive list of enthralling acts. And Gaga is certainly an A-lister for the ages, having recently followed up Bey's 2016 Super Bowl Halftime performance with a dynamic one of her own in 2017.
Clearly, it's a big year for Bey and Gaga — and for all their fans, too. You'll just have to fight a bit to get tickets to see the latter.