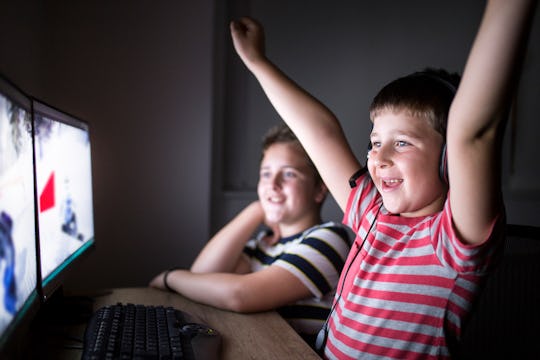 Milan_Jovic/E+/Getty Images
How To Have A Zoom Family Game Night That's Fun For Everybody Involved
If you're like most people who have hunkered down as a way to practice social distancing, you're probably feeling pretty bored (read: stir crazy) right about now. After all, there are only so many times you can walk your dog, or, um, home school your kids. So it's time to let off a little steam with a good ol' family game night. But if game night usually included other friends and relatives, it might feel like something (or someone) is missing. That's when you need to log back onto your computer and figure out how to have a Zoom family game night.
Of course, it might feel a little awkward at first to host a virtual game night. But once the games get going, you might find that you even forget you're not all in the same space. "Game nights are a great way to make sure that family gathers together, and will draw kids in (and away!) from their devices," Dr. Lea Lis, a double board-certified adult and child psychiatrist, tells Romper. "Game night can help increase bonding and make your family feel more together."
Get ready to roll the die, log in to your Zoom account, and have some laughs with a family game night that keeps the connection going despite the (social) distance.