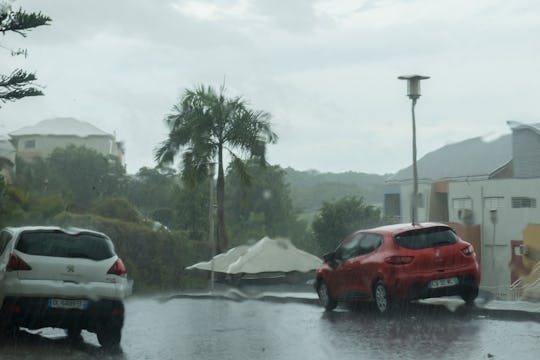 HELENE VALENZUELA/AFP/Getty Images
How To Help People In Barbuda & Antigua After Hurricane Irma
On Wednesday, Hurricane Irma ripped through the Caribbean, destroying almost everything in its path. The storm is nowhere near over, but already it's obvious that people are going to need to know how to help Barbuda and Antigua after Hurricane Irma, at the very least, since the storm first made its way through the Caribbean. Like most disaster relief, it's hard to tell exactly what the islands will need in the immediate aftermath and which organizations can best help residents there.
But there are plenty of reasons to get help in order now. For a few hours on Wednesday, contact with Barbuda was totally lost. It's back up now — but that technicality is a good reminder that getting relief and aid to islands most affected by Irma is going to be way harder than just making a donation to some well-meaning organization and hope that donated breast milk makes its way there.
As of Wednesday evening, the storm was still traveling through the Atlantic, headed towards Florida, possibly. The Prime Minister of Antigua and Barbuda, Hon Gaston Browne, said:
The essential point is that our main infrastructure has stood up and our country can resume normal life within hours. I dare to say that no other country in the Caribbean would have been as well prepared as we were.
His optimism was in vain, according to The New York Times, which reported that about 90 percent of the structures on the island of Barbuda were destroyed by Irma on Wednesday. So what can you do from the mainland to help out, because this storm is terrible? It's hard to tell.
It's hard to tell, since the region was hit with unprecedented storm weather. As of early Wednesday evening, officials were still assessing the damage and involved in relief efforts. For the time being, Antigua and Barbuda could use some sustained attention.
Given Browne's statement regarding the storm, the island is especially vulnerable, although at least Antigua seems to have missed the worst of the weather.
Here's How To Help Antigua & Barbuda Right Now
As Irma continues to make its way through the Atlantic, attention to the Caribbean, especially Barbuda, is important. Making donations to organizations that work in the region, like Save the Children or Habitat For Humanity, help to fill in where governments just can't. Instead of making donations to organizations you don't know, GoFundMe has set up a landing page for a centralized donation pool if you want to help out with cash.
But given the levels of damage, it might take some time to suss out what organizations are capable of serving the region. And donations to any international organization might take some time to effect the people that really need it.
Here's How To Help Going Forward
No one ever likes to be told to call their representatives yet again, but this is a good time to do so. Most of the Caribbean islands, like Antigua and Barbuda, are ex-colonies or territories of the United Kingdom, France, and the United States, which makes them economically vulnerable in good times. When a natural disaster occurs it's all the worse. So, put some calls in so these islands don't get forgotten in the coming months.
As these islands are hit by by storms like Irma, it's up to everyone to speak up for the people there and hope that they receive the same amount of relief and aid that any other city would receive once hit by the same exact storm — regardless of size.
Check out Romper's new video series, Romper's Doula Diaries: