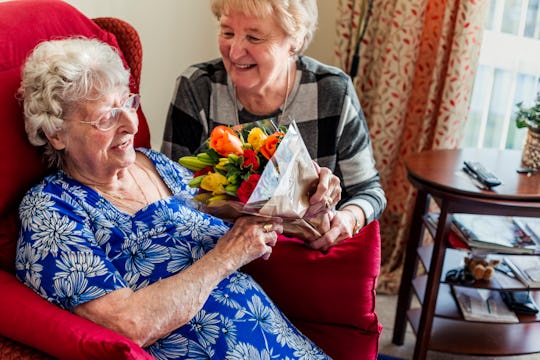 SolStock/E+/Getty Images
How To Help Nursing Home Residents Who Can't Get Visitors Because Of Coronavirus
While everyone is at risk for being infected by the coronavirus, there's no doubt that seniors face the greatest threat. And for those living in nursing homes, it seems that the situation might even be more dire — which is why so many facilities are banning visitors. But seniors thrive on visits from loved ones, so how can you help nursing home residents during the coronavirus scare? They're bound to be feeling a little extra lonely.
There are plenty of ways to brighten a senior's day from a distance, and you don't have to know them personally to reach out. Still, you might use this experience as a way to make real connections: When the ban on visitations is lifted, nursing home president and administrator Jennifer Malone-Seixas, MA, EdM, suggests visiting some of the residents you've helped in person.
"It can become a full-circle experience for everyone," says Malone-Seixas. "It will be even more meaningful that way."
As hard as it might be to tell your little ones they won't be able to visit Grandpa for a little while, staying away is the right thing to do. Older adults are at a much greater risk for contracting COVID-19, the Centers for Disease Control (CDC) reported; since the onset of the pandemic, 26 residents died at the Life Care Center, a nursing home in Kirkland, WA, according to Business Insider, of which 13 were confirmed to have had COVID-19. (Now, there are 51 confirmed coronavirus cases.)
In an attempt to prevent similar outbreaks, Centers for Medicare & Medicaid Services (a subdivision of the Department of Health & Human Services) issued new guidelines to help prevent the further spread of coronavirus to nursing home patients. According to these new rules, facilities are being urged to screen visitors and restrict access to those who might be showing signs of a respiratory infection. It also includes people who have traveled internationally within the last 14 days, or have had contact with an infected individual as well.
Truly, there's no better time than now to show your support for the elderly residents in your community. While you won't be able to do an in-person visit, these tips can help you to do some good until the ban is lifted.