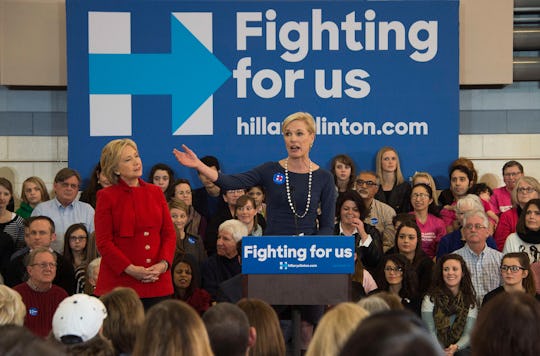 JIM WATSON/AFP/Getty Images
How To Help Women In Anti-Abortion States Access The Reproductive Health Care They Need
With just 58 days until Donald Trump officially becomes the 45th president of the United States, women fearing a crackdown on reproductive rights — including the right to an abortion, protected by the 1973 landmark Supreme Court case of Roe v. Wade — continue taking to social media to urge each other to go get IUDs now, before it's too late. In fact, nationwide bookings for birth control services increased by more than 900 percent since last month, according to Raegan McDonald-Mosley, Planned Parenthood's chief medical officer. In addition, organizations like NARAL Pro-Choice America, Emily's List, and the Women's Reproductive Rights Assistance Project are gearing up to help women in anti-choice states access the reproductive health care they deserve under a Trump presidency.
Though Trump hasn't specifically stated plans to restrict access to birth control, he did campaign on a platform of repealing Obamacare, which covers birth control at no out-of-pocket cost to the patient. He's also on record as saying he wants to defund Planned Parenthood, ban abortion after 20 weeks via the Pain-Capable Unborn Child Protection Act, and nominate anti-abortion justices to the Supreme Court. In a 60 Minutes interview that aired Sept. 13, Trump said women would "perhaps have to go ... to another state" to obtain an abortion, should those justices decide to overturn Roe v. Wade. ‌
Jennifer, a 35-year-old resident of Maryland, told The Guardian last week that fear is driving her to make a decision about getting an IUD:
For the past eight years, we've seen expanded healthcare and more acknowledgement of reproductive rights — but I remember how tense things were under George Bush. So, for me, there's a sense that I need to protect myself because I don't think lawmakers will... I don't like the feeling of being painted into a corner. I feel like I am being rushed, like I'm having to make a decision right now that I would like to be more thoughtful about.
How reproductive rights in general and abortion access in particular will change over the next four years is unclear. But according to Mother Jones, the real clear and present danger is lawmakers in conservative states — encouraged by Trump and a Republican-controlled Congress — who will seek to pass anti-choice legislation at the state level. For example, less than a week after Election Day, Texas Republicans filed bills for the 2017 legislative session that would severely encroach on abortion rights in the Lone Star State.
First, Rep. Byron Cook proposed legislation requiring the cremation or burial of fetal remains following an abortion or miscarriage; the same day, Rep. Matt Schaefer would remove an exception for severe fetal anomalies in the state's 20-week abortion ban. In other words, if a woman learns after 20 weeks of pregnancy that her fetus has anencephaly, she would not be able to terminate the pregnancy in her home state. However, according to Science Progress, ultrasounds administered prior to 20 weeks often fail to detect the presence of such anomalies, particularly those that are lethal to the fetus.
Whatever happens, one thing is clear: If you believe in a woman's right to choose, it's time stand with those who struggle to access their right to safe and legal abortion in the United States. Here's what you can do:
If you're still struggling with the election results, helping women in anti-choice states access the reproductive health care they need is a great way to start making a difference.