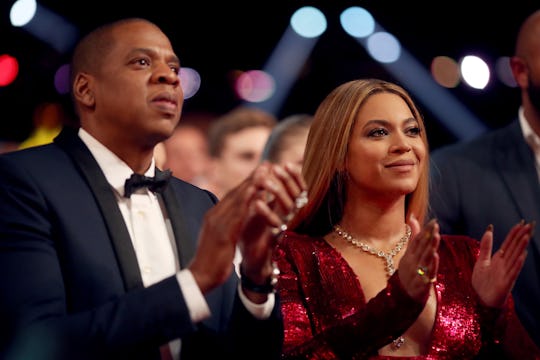 Christopher Polk/Getty Images Entertainment/Getty Images
Drop Everything & Listen To Beyonce's Latest
With her stunning, ethereal, magnificent, transformative Grammys performance Sunday night — not to mention her recent announcement that she's pregnant with twins — Beyoncé has gifted us with more than we deserve this February. But even as Grammys viewers everywhere struggled to comprehend how her unprecedented visual album Lemonade lost the Album of the Year honor, the queen dropped a track all about winning. Because, really, Bey doesn't need another award to cement her status as the preeminent entertainer of our time; she shows us with her art. So, behold: Here's how to listen to Beyoncé and husband Jay Z's new song with DJ Khaled.
The power couple — whose 5-year-old daughter, Blue Ivy, looked totally natural at the Los Angeles awards show — collaborated for the first time since 2013's "Drunk In Love" to deliver "Shining." It's the first single to be released from DJ Khaled's upcoming album, Grateful, as the artist and producer announced on Instagram immediately following the show. And, with Bey belting out lines like "All of this winnin', I've been losin' my mind, yeah," and "We smilin' for a whole 'nother reason/It's all smiles through all four seasons," it's the ultimate feel-good album to start the week ready to slay.
And, blessedly, the track is pretty easily accessible, so that fans of Bey, Jay, and DJ Khaled can blast it wherever they go, today and always, on repeat and alternating with "Flawless." First, you can catch it on YouTube. There's no music video, yet, but the thumbnail teases that there will be — it's a shot of Beyoncé and Jay Z nestled in a convertible, with her in the driver's seat, naturally. "Shining" is also available for streaming on Spotify — a version of which you can download for free, FYI — as well as Tidal, Jay Z's own music streaming service. And, of course, it's sure to be front and center when Grateful drops. Adorably, DJ Khaled names his 3-month-old son, Asahd Tuck Khaled, as the executive producer for the project, so the timeline on that is a bit up in the air.
And speaking of babies, Jay Z may have left a little clue about the twins he and Bey will soon welcome into their family. "Don't let me have a son, I'm a fool," he raps. "I want a boy and a girl to fight for truth, but whatever God give me, I'm cool." Does this mean the world is about to meet Jay Jr.?
But whether they're boys or girls or one of each, those twins will grow up in awe of their mother's dominance of the music and entertainment industry. Nominated for nine awards, she walked away with a Grammy for Best Music Video for "Formation" and another for Best Urban Contemporary Album for April's Lemonade. And so many following along were scandalized that Lemonade lost Album of the Year to Adele's 25 — including Adele herself. In her acceptance speech, the British singer praised Bey as "my artist of my life" and Lemonade as "monumental" and " beautiful and soul-bearing."
Later, she reportedly broke the award in two and gave part to Bey. "I thought it was her year," she said backstage, according to The Independent. "What the f*ck does she have to do to win Album of the Year?"
Still, "Shining" proves it: Beyoncé is always winning, no matter what.