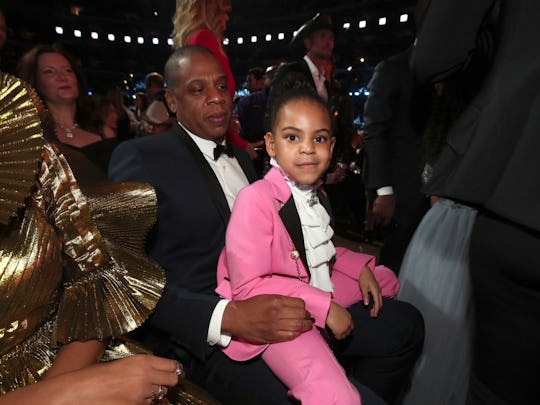 Christopher Polk/Getty Images Entertainment/Getty Images
Blue Ivy Stole The Show At The 2017 Grammys
So Beyoncé, who is pregnant with twins (have you heard?), brought her kid to the Grammys. And this child is hands down the best thing to happen to the awards show, all due respect to her mother, Queen Bey herself. Need proof? No problem! Here are all the times Blue Ivy stole the 2017 Grammys. You know, in case you were keeping track of that kind of thing.
We first caught a glimpse of this little munchkin when her mother, dressed as a literal sun and fertility goddess, took the stage for her performance of the night. Images of Blue Ivy laughing and running around were a part of the show, but the best part came a little later.
But I'm getting ahead of myself here. First, let's talk about how she came dressed in a pink tuxedo in homage to Prince, who tragically passed away in 2016. No one since Prince himself has ever looked that good in a damn pink tuxedo. She was also carrying with her a pink, sparkly Hello Kitty purse, that all of us found absolutely fascinating and that she spent the majority of the night playing with. I would probably do the same, to be honest, because it looks really cool. Blue wasn't technically a performer here, but she definitely stole the show from those that were.
In a particularly hackneyed segment, Cordon reprised his "Carpool Karaoke" to sing "Sweet Caroline" with several artists (including Neil Diamond himself) inside a cardboard cutout of a car. This was a little silly, and everyone was a little unsure of themselves, and it was about to be a bit of a nightmare until Blue Ivy got excited and ran over to join in the fun. Cordon should send her a personal letter of thanks to her for completely rescuing the show. It was as adorable as you might imagine. She's obviously got her mother's talent for performance.
And the cuteness did not end there. When Beyoncé came on stage to accept her Grammy, Blue ran up close to the stage in excitement which was beyond adorable. "Hi baby," Bey said to her daughter, glowing with beatific maternal love. Blue then proceeded to spend the entirety of her mother's acceptance speech exploring the contents of her Hello Kitty purse while her dad, Jay Z, kept a watchful eye on her. It was basically the cutest thing ever.
The rule here is that Blue Ivy must come to every awards show ever, to remind us all that there is good in the world, and she's tiny and very well-dressed.