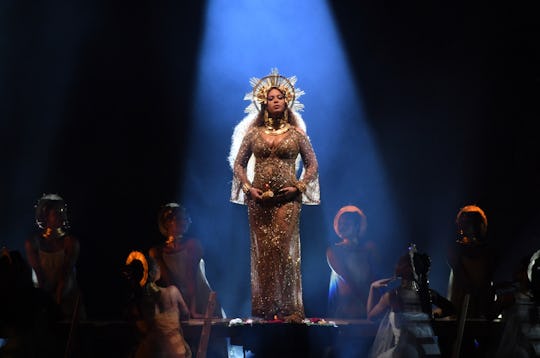 Kevin Winter/Getty Images Entertainment/Getty Images
Beyoncé's Grammys Medley Honored Motherhood
The 59th annual Grammy Awards promised a slew of once-in-a-lifetime performances, including a show-stopping act by Beyoncé. Normally, any time Bey hits the stage it's worth remembering, but on Feb. 1 The Queen announced via Instagram that she was pregnant with twins, adding another element to what was sure to be an emotionally charged evening. And as we all saw, the hype was worthwhile. Beyonce's Grammys performance speaks to motherhood in a way few performances do, and not just simply because the award-winning artist took the stage while simultaneously growing two human beings inside of her body. From subtle movements to poignant lyrics to a very deliberate opening accompanied by powerful images, Beyoncé's performance was an ode to women past and present, all of whom are responsible for the entire human race.
As a mother who was once pregnant with twins and tragically lost one of her sons in utero when his heart simply and surprisingly stopped beating 19 weeks into my pregnancy, I was somewhat hesitant to hear that Beyoncé was going to take the Grammys stage while pregnant with twins of her own. Of course, every pregnancy is different, as is the way a woman's body reacts to it, but having been painfully and acutely aware of how devastating the "worst-case scenario" can be, it was difficult for the "mom" in me to not worry.
Then Beyoncé took the stage, and worry gave way to an overwhelming feeling of awe and thankfulness.
As a mother, I have seen the contributions I have made to my son, my family, and society at large quickly and unequivocally be swept under the proverbial rug. In a society where there is no mandatory paid maternity or paternity leave for families who have children (whether biologically or via adoption) and a working environment that is unforgiving if not downright penalizing to working families, it's easy to feel as if motherhood is simultaneously expected of me and despised of me. As reproductive rights are being outwardly attacked by the new president and his administration, yet GOP politicians claim pregnant women can simply quit their jobs if they experience discrimination in the workplace, it seems as though the life of a mother is not only inconsequential, but it's worthy of regulated punishment.
So the opener of Beyoncé's performance struck a deeply profound chord within me. As images of herself (and her very obvious pregnant stomach), her daughter Blue Ivy, and her mother Tina Knowles, words like the following from poet Warsan Shire echoed throughout the entire Grammys stage and stuck to the inside of my ribs:
Do you remember being born? Are you thankful for the hips that cracked, the deep velvet of your mother and her mother and her mother? You look nothing like your mother; everything like your mother. You desperately want to look like her.
How to wear your mother's lipstick? You must wear it like she wears disappointment on her face. Your mother is a woman, and women like her cannot be contained. I think of love as trees, growing to and from one another, searching for the same light. Why are you afraid of love? You think it's not possible for someone like you, but you are the love of my life. The love of my life.
All too often, it seems, the men who are currently formulating public policy that can (and already has) altered the course of women's lives — whether they choose to be mothers or not — forget where they came from. While all music and art is up for interpretation, to me, watching Beyoncé perform on the Grammy stage while pregnant with twins, asking the world (yes, not just her husband) if they remembered being born, was a question posed to those who are advocating the legislation of women's bodies: whether it's when and if a woman can procure an abortion to how long a woman can take to recover from childbirth.
To watch a woman of color uphold the duality and complexities of women everywhere, and essentially remind us all that we are never one thing, but a combination of many things, was awe-inspiring.
Throughout Beyoncé's performance, she placed her hand gently on her stomach, never seemingly to even remotely attempt to hide her pregnancy. After all, pregnancy isn't something that should be hidden. She was an entertainer doing her job, of course, but she was also a pregnant mother — and viewers across the globe couldn't forget either. To watch a woman of color uphold the duality and complexities of women everywhere, and essentially remind us all that we are never one thing, but a combination of many things, was awe-inspiring.
Here I was, days before, worried that Beyoncé's performance hurt her twin pregnancy in a way that somehow mirrored mine. Instead, Beyoncé reminded us all of the power of women. Singing songs about heartbreak and healing, she reminded me that loss gives way to healing, pregnancy gives way to power, and motherhood gives way to endless possibilities. She reminded me that there's no need to worry, even if our past is painful and even if the future seems dim in light of the current administration and the policies currently trying to be passed. With a message, a voice, and a power beholden to women, we will continue to take the stage, resist, and persevere.