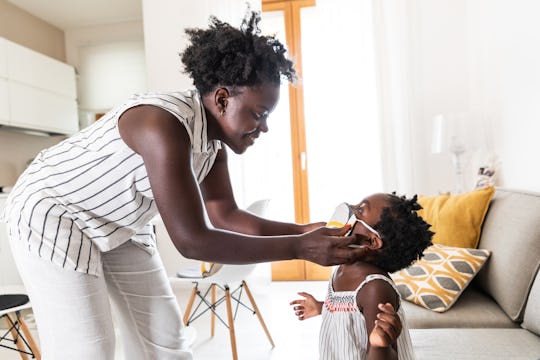 LeoPatrizi/E+/Getty Images
How To Make Face Masks More Comfortable For Kids, According To Experts
Whether it's going to the store or school, your child will most likely need to wear a face mask this fall. But even though you can might be able to make kids understand why they should wear masks, helping them feel comfortable with a cloth covering on their face is another issue entirely. So how can you make face masks more comfortable for kids? There are some solutions to make it work.
This past spring, the Centers for Disease Control and Prevention (CDC) issued mask guidelines for everyone ages 2 and up. And in that time period, masks have not only become much easier to find, they've become much more stylish, too. That doesn't mean that all kids actually enjoy wearing them, however, which is why you might need to come up with a creative solution so your kiddo won't complain (or at least not that much, anyway).
There are a surprising amount of options to make masks work for your child, especially if you're willing to think outside the box. You can even make modifications to an existing mask, pediatrician Dr. Corey Fish, M.D., FAAP, tells Romper in an email. "Obviously cutting holes in the mask will make it less effective, but there's nothing wrong with padding the ties or padding other contact areas with small pieces of extra cloth such as a soft fleece material," he says. "A little fabric glue and scraps from an old garment or fabric store and you're good to go."
With the help of these ideas, hopefully wearing a mask won't be such a big deal.