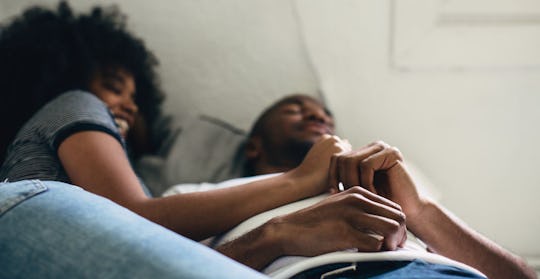 BONNINSTUDIO/Stocksy
Here's How To Orgasm More Quickly, Because It's A Life-Changing Skill
When you're a mom, it's enough of a challenge finding time in your crazy day for sex; making it satisfying shouldn't be an ordeal. And while long and luxurious bedroom sessions are still something couples should aim for, sometimes you only have time for a quickie — or maybe you have trouble climaxing no matter how much effort you put into it. Knowing how to orgasm more quickly can relieve that frustration (not to mention adding to your pleasure).
It may reassure you to know that one out of three women have trouble reaching climax through sex, according to Planned Parenthood. Sometimes it's a matter of the situation (feeling stressed or self-conscious), but in many cases, it's because we're just not turned on enough. "Insufficient arousal means a greatly reduced possibility of orgasm — especially orgasm that builds and happens fairly quickly," says sexologist Carol Queen, Ph.D., curator of the Antique Vibrator Museum and the co-author of The Sex & Pleasure Book: Good Vibrations Guide to Great Sex for Everyone. "So the first step is self-assessment: What DO you like? What gets you the most turned on, what positions feel the best and allow you to be most responsive, and have you communicated all that to your partner?"
There are no guaranteed positions or techniques that work for every single woman, adds Dr. Queen. Instead, it's a matter of experimenting to see what you enjoy. She suggests these tips to help make it easier to reach your peak.