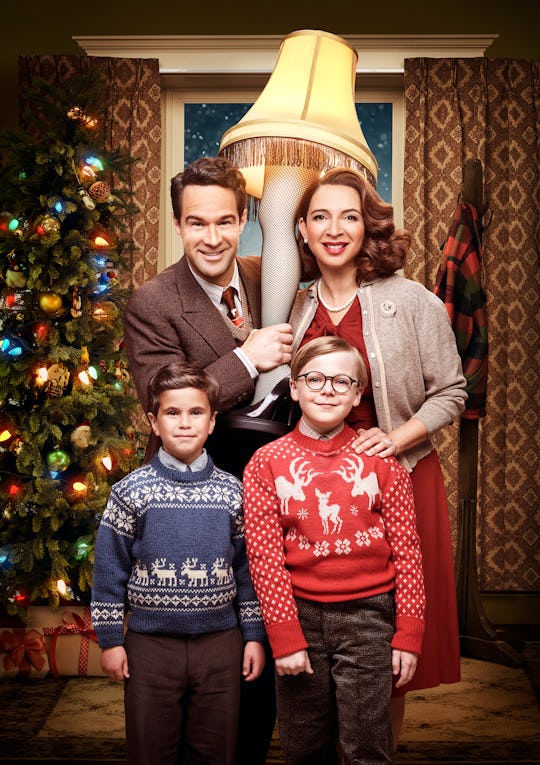 Tommy Garcia/Fox
Rewatching FOX's 'A Christmas Story Live!' Will Be Easy
It might just be because part of the original movie was filmed in my hometown, but A Christmas Story is one of those holiday movies that I will gladly keep on TV during the usual 24-hour marathon that comes around every year. It just screams Christmas, which is probably why FOX decided to recreate the movie on live TV this Sunday, Dec. 17. But like the original, viewers are going to wonder how to rewatch Fox's A Christmas Story Live!.
I'm happy to say that the special will be available On Demand the day after it airs on TV, so just like the original movie, you can rewatch the live rendition over and over until you're having nightmares about that weirdly creepy Santa or those aggressive neighborhood bullies. You might also be able to rewatch the special on FOX's website, since a variety of the network's TV shows are typically available there as well, but that hasn't yet been confirmed. Since FOX has an agreement with Hulu, you might also be able to rewatch it there, especially since there's already a Hulu page for A Christmas Story Live!, complete with clips to promote the upcoming special.
Obviously your best bet is to watch it live on Sunday, Dec. 17 at 7 p.m. EST., but if you can't do that or you just want to rewatch what may very well be your favorite childhood Christmas movie, there are clearly a handful of ways to get that done.
Just in case you aren't familiar with the story of the original A Christmas Story, it was a 1983 movie set in the 1940's about a young boy and his quest to get a Red Ryder Range Model Carbine Action BB Gun for Christmas, despite the constant warnings from adults around him that he'll shoot his eye out if given one. He also has a gruff kind of father, overprotective mother, and annoying little brother to round things out. Plus, the scene with the soap in his mouth for saying the phrase we all think of instead of "oh fudge" will make you own mouth taste bitter just watching it.
A Christmas Story Live! was inspired by not only the original movie, but also the Tony Award-nominated Broadway production of A Christmas Story: The Musical, so while this won't be the first time the story was put into song and dance, it will be the first time viewers get to see it live on TV with some pretty big stars. Matthew Broderick serves as narrator and the older version of the B.B. gun-obsessed Ralphie, while his mom is played by Maya Rudolph, and Chris Diamantopoulos (Silicon Valley, Good Girls Revolt) will play the dad, Old Man Parker. Jane Krakowski and Saturday Night Live alum Ana Gasteyer are also a part of the live special, so if nothing else, fans of the original will get to enjoy watching some of their favorite actors recreate these iconic roles.
The Christmas special will also welcome newcomer Andy Walken, who plays Ralphie and looks like he was born to play the part.
I don't know how A Christmas Story Live! will live up to the holiday nostalgia of the original, but it will definitely deserve a rewatch or two during these next few weeks, and luckily, it will be possible to do that more than once before Christmas actually arrives. Heck, it might even inspire you to invest in one of those leg lamps for your own front window. It's bound to go well with your surrounding Christmas lights, right?
Check out Romper's new video series, Romper's Doula Diaries:
Watch full episodes of Romper's Doula Diaries on Facebook Watch.