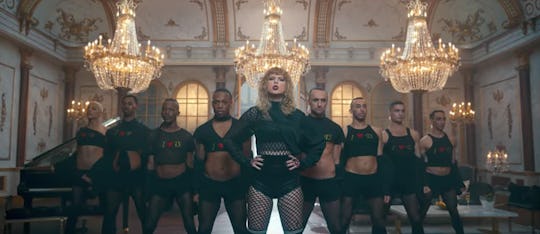 TaylorSwiftVEVO/Getty Images
Here's How To Rewatch Taylor Swift's "Look What You Made Me Do" Video
Taylor Swift finally debuted the full video for "Look What You Made Me Do" at the 2017 MTV VMAs after breaking the internet earlier in the week with just the teaser. After all of the conversation surrounding whether or not she appropriated Beyoncé's "Formation" video or if she was going to take jabs at some her alleged rivals, you're going to want to know how to rewatch Taylor Swift's "Look What You Made Me Do" video and come up with your own opinion. Luckily, it won't be hard to do.
You can just go to YouTube — it's already there. Let's all take a minute to give up some emoji-style prayer hands for the internet, because back in the day when a video premiered at the VMAs or even on MTV, you had to sit and wait until it came on again. Which could have been days. So, say a little thank you to the internet gods and just go search for the video on YouTube.
There is a lot going on in the video. It begins with Taylor crawling out of the grave as a zombie, followed by vignettes of the various personas Swift has adopted or been assigned, depending on your point of view, over the years. One is a hard biker-type, one a Taylor in a gold cage on a swing, and of course, another one leading dancers who are all wearing "I Love T.S." shirts (which could be a shout out to the one her ex Tom Hiddleston wore once upon a time when they were dating).
The imagery doesn't stop there. There are scenes of her in a bathtub with diamonds, walking a tiger, and crashing a car. There's even a gravestone in the background of the video for Nils Sjoberg, the pseudonym she worked under with another ex, Calvin Harris.
At the end of the video, all of these Taylors come together, gossiping in different ways, ending with one saying, "I would like to be excluded from the narrative," which is what people dragged Swift for saying in response to her feud with Kanye West and Kim Kardashian over an allegedly leaked phone call before the release of his track "Famous."
Again, there's a lot going on in the video.
For a comeback video, her message is pretty clear — Taylor Swift DGAF anymore about what people think of her. The hook for the song is a lyric that goes, "The old Taylor can't come to the phone right now, Why? Oh, 'cause she's dead!" Presumably that means the Swift who cared what other people thought, yet Swift seems to care very much about changing her "reputation," which is the name of her sixth album, coming out on September 12.
You should re-watch the video yourself and see what you think, because people will definitely be talking about this.