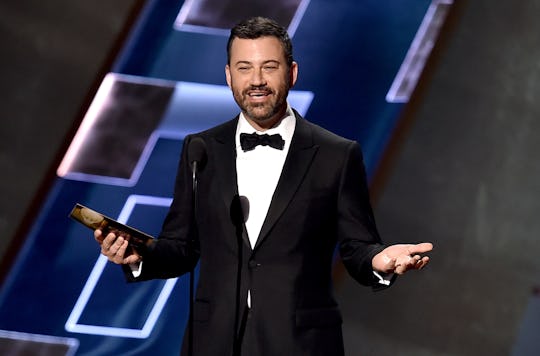 Kevin Winter/Getty Images Entertainment/Getty Images
How To Rewatch The 2016 Emmys, Because There Is Going To Be So Much To See Again
Watching the Emmys is like watching a football game. Blink and you'll miss something amazing that you will rely heavily on your DVR to rewind and watch again. But if you aren't lucky enough to have God's gift to TV in your home, how can you rewatch the Emmys? Whether you end up walking in mid-way through the show or miss host Jimmy Kimmel's beginning monologue, chances are, you're going to want to see the awards show in its entirety. If only to be able to appreciate all of the memes and videos that generate from the content of the Emmys.
Luckily, The Emmys will be available online at ABC.com the next morning to rewatch Sarah Paulson win an Emmy for outstanding lead actor in a limited series for her role The People v. O.J. Simpson or to see Viola Davis get credit for her role in How to Get Away with Murder. Just kidding, they're both just part of the many nominations, but a girl can dream, right? You can also rewatch the Emmys onDemand the following day, so there are definitely options as far as how to rewatch the Emmys. Or, if you miss them completely, you will be able to catch up without just reading about the winners in each category.
Check Out ABC.com
The day after the Emmys air on TV, they'll likely be available online at ABC.com to watch in full, possibly with even the red carpet pre-show available to see. Because you know you want that full effect if you're going all in.
Get Yourself Familiar With Hulu
Since a lot of people have done away with cable and even TV in general (I can't even with that no cable lifestyle), Hulu has done well in catering tot hose who are all about streaming. A membership for Hulu is $7.99/month, but since most of ABC's programs are available on the streaming service the day after, you can expect to see at least some of the available content from the Emmys.
Depend On That OnDemand Feature
If you have cable, but your DVR schedule is full and you're watching something else or can't make it home in time, then remember that you probably have OnDemand from your cable provider. The Emmys will most likely be available OnDemand the following day to stream right from your TV. You might still get some of those pesky commercials, but you'll be able to see how many awards Game of Thrones takes home, so there's that.
Resort To The Highlight Reels Online
If all else fails, there is always social media and YouTube to get your fix from the Emmys. If rewatching the full three hour showing of the Emmys isn't exactly on your to-do list, you'll be able to find highlights from the awards show on YouTube, to give you a general idea of the most notable moments. But this is the Emmys - every moment is important, because there is very little you want to miss. Chances are, if you're interested in watching the Emmys, then you're also into more than just one TV show and want to see who takes the award in almost every category, so rewatching the Emmys, as in the entire show, is probably the best bet.