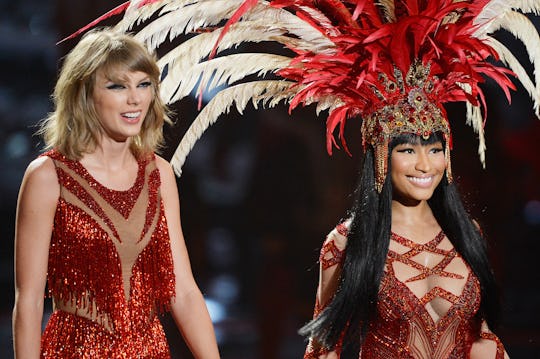 Kevork Djansezian/Getty Images Entertainment/Getty Images
How To Rewatch The 2016 VMAs, Because You Won't Want To Miss One Moment
When the VMAs air Sunday night on MTV, millions of viewers will be waiting with bated breath to see who goes home with what award and how the performances turn out. Which, if the music gods have anything to say about it, will be amazing with just a hint of cringeworthy stuff to keep us talking after. But for those of us who can't watch the show as it airs, you might be wondering how you can rewatch the VMAs? If any of MTV's Video Music Award shows of the past 32 years have taught us anything, it's that MTV lives to promote the VMAs and give us almost constant reruns. So if you find yourself unable to watch the VMAs live, other than the strict talking to you should give yourself for missing out on the initial performance of Britney Spears, you'll be fine.
The VMAs are set to air from 8:30 to 11:30 Sunday night and directly following that last award of the night, they'll start right up again from the beginning. Of course, you'll have to work hard to avoid any and all social media, since you'll run the risk of seeing a performance too soon or getting commentary about who should have won which award, but other than that, it is totally possible to re-watch the VMAs after they air on MTV.
You Can Rewatch It On TV Right After
Like I said, MTV knows where it's at and they seem to understand that we as viewers will either miss something or want to see an artist's performance again right away. So, with that in mind, they'll be airing the VMAs right after it airs live on TV and streams live on the internet. Granted, you might miss the glory of Kanye West doing some awesomely horrible live on-stage, or a monumental Beyoncé performance that makes history (which we're all praying for at this point), but you can still catch the rerun right after.
On MTV Throughout The Following Week
And if you can't spare a few hours late Sunday night to watch the VMAs on TV, then keep an eye out for MTV's schedule the following week, because chances are there will be no shortage of reruns of the VMAs. Obviously they won't do anything crazy like interrupt your regularly scheduled showing of Teen Mom OG or take away Nev and Max on Catfish, but other than its few staple shows, MTV had more free time slots than you think. If you can't watch the VMAs live, don't start pulling out your hair just yet. All will be well.
On MTV.com
Although the VMAs probably won't be available for streaming online right away, MTV is known to put full episodes of their award shows online in due time. So if you're looking for a web experience to rewatch the VMAs, be patient and keep an eye on MTV.com for their updates surrounding posting the entire, three hour long award show. You won't be free of commercials by any means, but you'll be able to do one of those laptop propped on your stomach and against your thighs look for optimum comfort.
Watch The Highlight Clips Anywhere
If rewatching the entire show isn't your thing, then rest assured, you'll be able to find the highlight clips pretty much anywhere online. If not MTV.com right away, then look to Twitter, Instagram, and Facebook for all of the best moments from the MTV Video Music Awards. Seriously, that's what social media is there for — to spoil things for us and give us up-to-minute clips from the VMAs as we need them. Even for those of us who will watch the awards live, everyone is going to be scouring the internet for clips and videos directly following the live broadcast.
If you're wondering how to rewatch the VMAs, there are obviously a lot of options, but really, nothing beats catching it live and devouring each performance and and tweeting about that Kanye moment you know will happen.