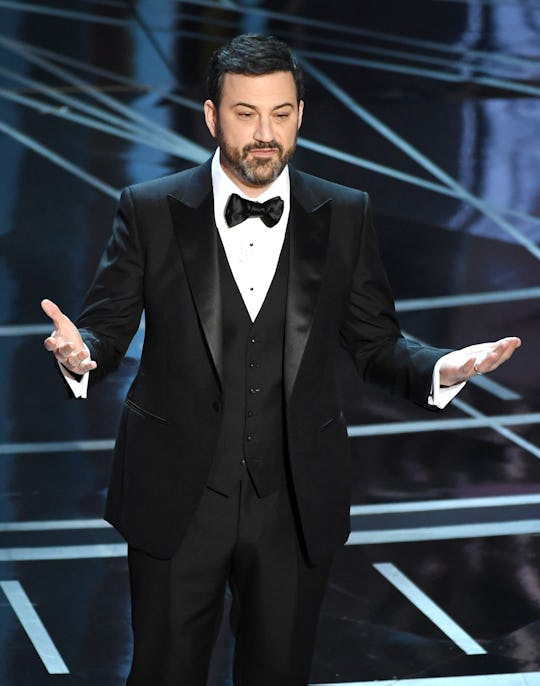 Kevin Winter/Getty Images Entertainment/Getty Images
There Are A Number Of Ways You Can Rewatch The 2018 Oscars
The 2018 Oscars are finally upon us, which means that we'll be able to watch all of our favorite actors and movies of the past year get some well-deserved recognition. But as this is the 90th Academy Awards show and once again hosted by the ever charming Jimmy Kimmel, there are sure to be some buzz-worthy moments, so you probably aren't alone in wondering how to rewatch the 2018 Oscars. There are bound to be some memorable snubs, wins, and general moments you'll definitely want to see again and again and again.
The good news is that, because it will air on ABC, you'll be able to watch it on ABC.com or on the app the following day or in the days shortly after the live air date. Unfortunately, you're going to need to login through your cable provider in order to gain that access, but if you subscribe to one of the many streaming cable service providers, you'll likely have no trouble rewatching the 2018 Oscars. The show will also be streaming live on Hulu for those who have a Live TV subscription. And better yet, the Oscars will also be available for streaming on Hulu the following day as well, just in case you aren't able to watch Hollywood's biggest event live.
Don't have any cable or streaming subscriptions or, at the very least, your sister's boyfriend's aunt's login information for any of them? There's always Twitter and YouTube to provide viewers with all of the biggest moments of the night, as well as most acceptance speeches from the Oscars. And often, such clips are made available almost immediately following their appearance on TV, so you can more than likely rewatch the 2018 Oscars on social media and YouTube in short clips and videos. In the past, viewers have been able to find long clips from the award show and in some cases, the entire show uploaded to YouTube, so never say never about the 2018 Oscars.
In the event that someone makes a particularly rousing speech, you'll definitely want to be able to catch up on every big moment. In most cases, the Golden Globes are a solid indicator of some of the wins you can expect from the Oscars and this year, a lot of the nominations are very similar. I fully expect Three Billboards Outside Ebbing, Missouri to clean house again as well as some recognition for Lady Bird, as the coming of age movie received praise and multiple awards at the 2018 Golden Globes.
We also can't forget the envelope debacle of the 2017 Oscars, wherein Warren Beatty and Faye Dunaway named the wrong winning film for Best Picture, and since this thing is live, there's a chance that viewers could see a similar mishap that Kimmel will have to laugh off as only he can do.
Viewers might also want to be on the lookout for a collective response to the Time's Up movement, as witnessed at the Golden Globes when guests showed up in black out of solidarity. There hasn't been word yet on what, if any, role the movement will play at the Oscars, but if there is recognition of some kind, you'll probably want to rewatch clips afterward.
Thanks to ABC.com, Hulu, YouTube, and social media, you'll be able to rewatch the 2018 Oscars in pretty much any capacity, even if it's just the biggest moments of the night. It may not be ideal, but it's certainly better than nothing at all.
Check out Romper's new video series, Romper's Doula Diaries:
Watch full episodes of Romper's Doula Diaries on Facebook Watch.