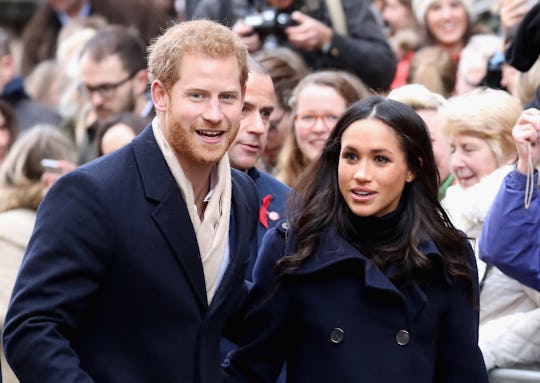 Chris Jackson/Getty Images Entertainment/Getty Images
Here's How To Rewatch TLC's 'When Harry Met Meghan: A Royal Engagement'
Everyone loves a good fairytale, so naturally that love extends to royal weddings and really, all things that have to do with the royal family, especially in the United States. The topic of Prince Harry and Meghan Markle has been nothing short of fascinating, which is why people will be wondering how to rewatch When Harry Met Meghan: A Royal Engagement, TLC's newest hour-long special on the couple. It's pretty much like a Hallmark Christmas movie come true and we are all here for it.
Since they are to be married in May 2018, the very same fans who tuned in to Prince William and Kate Middleton's wedding in 2011 are likely already clamoring for any and all details surrounding the next royal wedding. I'm betting TLC's special on the soon-to-be married couple may have a few peppered in there. But the main focus of When Harry Met Meghan is going to be a look at both of their lives before they even met and the events leading up to their relationship and subsequent engagement.
The hour-long documentary will air on TLC on Tuesday, Dec. 12 at 9 p.m. EST, which might cut into some of your other regularly scheduled primetime viewing, so there will be a few other showings on TLC during the weekend. You can rewatch When Harry Met Meghan on TLC on Saturday, Dec. 16 at 10 p.m. EST, and again at midnight on Sunday Dec. 17, as well as once more than same morning at 11 a.m. EST.
It's unclear if it will be made available on TLC's website for streaming afterward or on-demand via your cable provider, but since there have been other TLC specials and documentaries made available on the website, there's a good chance that this will be too. Are you getting excited yet? Cue the horse-drawn carriages and fabulous hats, please.
When Harry Met Meghan will feature commentary from Markle's half-sister, Samantha Markle, and even some of the actress' close friends. According to a TLC press release, Queen Elizabeth II's former press secretary, Dickie Arbiter, as well as several royal correspondents and editors will also be featured in the special in order to give their input on the newly engaged pair and their future as a wedded royal couple. The English constitutional historian David Starkey will appear in the special as well to talk about what Markle's life as a royal will mean for the actress, which will no doubt be a much bigger adjustment than it might have been for Middleton when she became Duchess of Cambridge upon her marriage to Prince William.
Although Prince Harry and Markle's wedding will be a bit different from that of Middleton and Prince William's — considering he will someday be king and therefore was expected to have a much more lavish event — it's still only the second royal wedding for some people to have ever experienced in their lifetime, so it's kind of a big deal. The closest thing we have to royalty in the United States might actually be the unofficial Queen Beyoncé and while I'm not complaining, there's something to be said for the magic of the fairytale that the British royal family represents, at least where the weddings are concerned.
Since the success of the Netflix Original series The Crown, which uses both historical facts and a bit of heightened drama to tell the story of Queen Elizabeth II's life with Prince Philip, there's no doubt an influx of people more intrigued by the royal family than ever. That means the interest in Prince Harry and Markle's wedding is bound to be high, especially as their wedding date gets closer. Thankfully, TLC was quick to put together the documentary special in order to give viewers even more insight into the couple, who met on a blind date in July 2016 and began dating from there.
If you happen to miss it or just want to rewatch When Harry Met Meghan, the additional showings will make it easy to do. And since this is probably the last royal wedding for a long time, you won't want to miss every opportunity to learn more about the couple.
Check out Romper's new video series, Romper's Doula Diaries:
Watch full episodes of Romper's Doula Diaries on Facebook Watch.