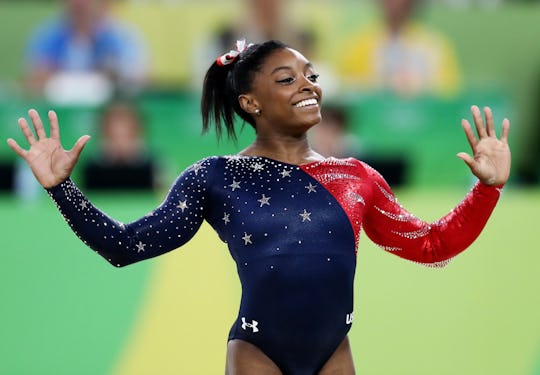 Ezra Shaw/Getty Images Sport/Getty Images
How To Send Fan Mail To Simone Biles, Because She's Inspiring Kids & Adults Everywhere
After an amazing start to her Olympic journey this year, placing first in all her qualification events so far, don't be surprised if your kids start asking how to send fan mail to Simone Biles (but let's be real, you might want to send her fan mail, too!). Biles is the favorite to take home gold meals in gymnastics this year for the U.S. team — she already has the most world medals in U.S. history and the most world championship medals of any female gymnast. The only reason she doesn't have a ton of Olympic gold medals is that this is the first year she's been old enough to compete on the Olympic team.
Biles is largely considered to be the best gymnast in Rio (maybe the world) and unless she beats her own record, she has basically no peers in the competition. Even beyond her unparalleled skills, Biles has a true passion for her sport and it shines through whenever she competes, as she always appears to be really enjoying herself.
With all that talent, hard work and passion behind her, Biles will no doubt be taking home medals herself this year, but will more than likely help the U.S. Women's Gymnastics Team take home the gold, too.
World Champions Centre
Simone Biles
11200 Cox Road,
Suite E
Conroe, TX 77385 USA
Biles might be the top gymnast in the world right now, but she's super down to earth and has a family that keeps her grounded. The Biles are a very close-knit family and they've been her biggest support system. She was adopted by her grandparents after spending several years in foster care, and went to live with them when she was 6 years old — the same year she went to her very first gymnastics class.
Her brother Adam Biles told The Washington Post in an interview, "We don't know what famous people are supposed to do, act like or what we are expected to be. So when you see Simone out there competing on the floor, and she's happy and smiling and making little colorful comments and remarks, that's genuinely her."
On the Simone Biles page on USA Gymnastics, after the nearly quarter-page list of her staggering number of awards and wins, Biles shares some of her favorite things: in school, her best subject is History (fitting, since she's making it!), she loves Pretty Little Liars and The Hunger Games series, and when she's not in the gym she's hanging out at the mall with her friends.
Well — that, and responding to all her fan mail. She's been regularly reading and responding to fans for years, though she's probably a little bit busy right now, competing at the Olympics and all. That, and currently freaking out that her number one crush, Zac Efron, congratulated her on Twitter yesterday.