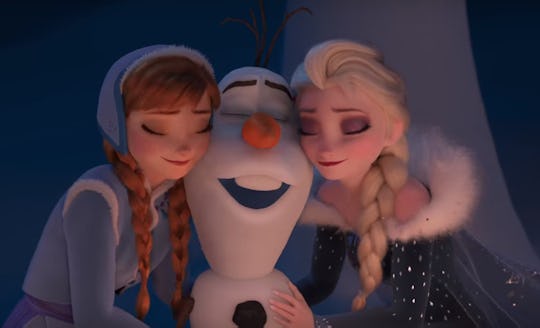 Walt Disney Animated Studios
Here's How To Stream 'Olaf's Frozen Adventure,' So You Can Fill Up On Warm Hugs
For many of those who saw Coco in theaters this fall, they also got to see the Frozen featurette beforehand as an extended Pixar short titled Olaf's Frozen Adventure. And while the segment has since been pulled from theaters, it's about to air on ABC as a holiday special this Thursday, Dec. 14, which should prove to be an extra special treat for both kids and adults. But how can you stream Olaf's Frozen Adventure? Since it's the next best thing to an actual Frozen sequel, you'll definitely want to try and catch this adorable featurette more than once.
Considering that the Frozen short is going to air on ABC at 8 p.m. ET., then there's a good chance that you might be able to stream the holiday special on ABC.com or on the ABC Go app, provided that the live stream is available in your area, since it does vary. Additionally, you may be able to stream Olaf's Frozen Adventure from the ABC website the day after it debuts or find it on Hulu, since the streaming platform offers a variety of ABC shows. YouTube is always a reliable source for these types of things as well. Even if it doesn't have the entire special made available just yet, I'm sure you'd be able to track done various clips to enjoy.
If the special plans to follow in the footsteps of Dreamworks' Trolls holiday special, there's a good chance that, after it airs, you might be able to stream Olaf's Frozen Adventure by purchasing it on iTunes or Amazon Video. It's already available on iTunes in other countries, so it's only a matter of time before you can get in on the action.
The special Frozen holiday short isn't the first of its kind by any means, but it is the first Pixar short to last 22 minutes in length, which is more than double the amount of time they usually run. So when it was shown in theaters before Coco, it was definitely an added bonus.
Olaf's Frozen Adventure brings back all of the characters you fell in love with, including the voices behind them — such as Josh Gad, who voices the adorable Olaf, as well as Idina Menzel and Kristen Bell as Elsa and Anna, respectively. This time around, though, Elsa isn't confined to a room in the palace or holed up in an ice castle after losing control of her powers. Being that this is a holiday special, the short follows Olaf as he sets out to bring different holiday traditions home to the sisters once they realize that they haven't really developed any Christmas traditions of their own.
The scene in the trailer shows Olaf in a sauna, which is probably enough to get you excited. As we all know by now, Olaf loves warm things — even if he isn't supposed to, considering what starts to happen when he's not around cold temperatures.
Much like the recent Trolls holiday special was like a teaser and small taste of the eventual Trolls feature-length sequel, that's what you can consider Olaf's Frozen Adventure, since the Frozen sequel won't premiere in theaters until Nov. 27, 2019, which is admittedly still a long ways away.
Fans might have to wait another couple of years before the official continuation of the story that started it all, but streaming Olaf's Frozen Adventure is definitely the next best thing. But considering it's now the best time of the year to be binging on holiday movies, you have no reason not to watch it more than once before Christmas.
Check out Romper's new video series, Romper's Doula Diaries:
Watch full episodes of Romper's Doula Diaries on Facebook Watch.