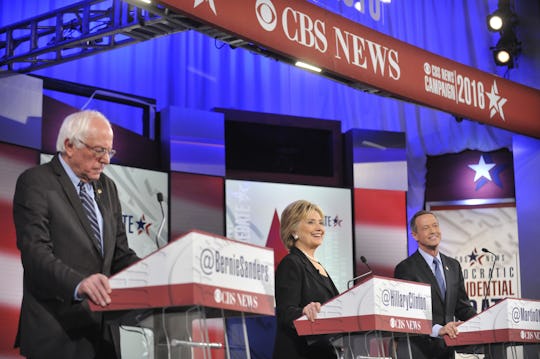 How To Stream The ABC Democratic Debate On Dec. 19, Because Hillary Clinton & Bernie Sanders Will Probably Face Off
The fifth Democratic presidential debate will be held at the Carr Center on the Saint Anselm campus in New Hampshire on Saturday, Dec. 19. It will be the last debate of 2015, and it is slated to feature the same candidates as last time: Hillary Clinton, Bernie Sanders, and Martin O'Malley. The debate is sure to be exciting, with Sanders' recent voter information scandal and O'Malley's last attempt at bringing up his single-digit poll numbers. So, how can viewers stream the ABC Democratic debate? There will be a simple, easy-to-access live stream available.
The ABC debate will be moderated by ABC's World News Tonight Anchor David Muir, CNN Chief Global Affairs Correspondent Martha Raddatz, and WMUR-TV Political Director Josh Mcelveen, according to Politico. While the debate will be broadcast on ABC, it will also be made available via several different streaming services.
ABC News will make the program available on its website and without a paywall, and without a cable subscription. (It will also be available on the ABC News mobile app.) Other devices will also support streaming via the ABC app. These devices includes the Roku, Apple TV, and Xbox One. And though it's not "streaming," viewers can always tune their TV to ABC if they have an antenna or rabbit ears. (The public airways are free after all, and accessible to most, with or without an internet connection.)
While every debate is important, this debate is particular important for Sanders — Clinton's closest competitor — as he is still trailing the former Secretary of State by 31 points, according to a new ABC News/Washington Post poll. (However, it should be noted that while national polls show Clinton has a commanding lead, some local polls show, like that of the Des Moines Register, show Clinton is just 9 points ahead of Sanders. In short, let's not count Sanders out just yet.) Further, on Friday, the Democratic National Committee temporarily suspended Sanders' access to voter files, because, it alleges, a Sanders' staffer accessed confidential files on Clinton's campaign, according to CNN.
As for O'Malley, he is barely registering in the polls — even in his home state. So while his chances are slim, at best, he still has the potential to bring a lot of insight to this debate. Never say never, right?
The topics for this debate have not been disclosed, but it does have a new hashtag. But Tweeters should brace themselves, because this hashtag is a bit of a mouthful: #YourVoiceYourVote (and it is far more cumbersome than #DemDebate).
Both Democratic and Republican candidates will return to the stage early next year. The next Republican debate is scheduled for Thursday, Jan. 14 in South Carolina, and the next Democratic debate is scheduled for Sunday, Jan. 17 also in South Carolina. The air time for both of these debates has not yet been announced.
Image: Getty Images