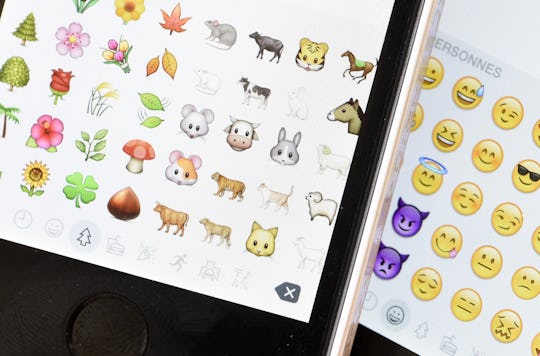 MIGUEL MEDINA/AFP/Getty Images
How To Take The New Emojis Off Facebook Messenger, Because Not Everyone Loves Them
I don't know how I emoted before emojis. Did I just tell people, Hey I'm sad, or Hey, this picture is making me giggle? That seems pretty stupid. Emojis are the 21st century version of having to deal with actual emotions, and I think everyone's all good with that for the most part. Emojis are shiny and fun and silly and actually far more complex than this girl's emotions. We all love them, right? Well most of them. Turns out, despite the latest update that blessed us with a wealth of fun, colorful new options, not everyone is feeling the heart-shaped emoji. So if you're wondering how to take the new emojis off Facebook Messenger, here's how you do it. Because apparently not everyone is smiley face emoji about them.
That's not to say the new more diverse emojis Facebook announced on Thursday don't have their fans. Some users are feeling very "soccer ball, lightbulb, hamburger" about the variety of skin tone options, the empowered working women emojis, and simply the broader spectrum of global representation. But others are feeling more "frowny face, angry red devil, thumbs down" about the 1500 new emojis.
Change is hard, guys, we all know this. So while the new Facebook emojis might be on point and enlightened, many users just want to go back to the way things were before. When times were simpler, and emojis were fewer.
So for those of you who are already over trying to navigate through the 1500 emojis have no fear, there is a way out. Facebook allows you to turn off the new emojis from their mobile app. And apparently it's pretty easy, as Romper's own Kaitlin Kimont found out.
Step one? Open the Facebook Messenger app on you iPhone or iPad (and Android once the emoticon update is available there). In the bottom right corner, tap the "Me" tab and then make sure to select the photos and media option. At that point, you can select the "Messenger Emoji" option to shut down those cute-faced smileys and awkward food emojis for good.
Now, here's another little suggestion coming your way... maybe give these new diverse emojis a few days to see how you feel. Because you can feel like a surfer girl, or a runner, or a police officer without having to actually go out and do any of these things!
You might eventually feel a bit more "shooting star, Flamenco dancer, bunny ears" about the whole thing.
And I think the folks at Facebook are feeling pretty earnest about their new emojis. According to a blog post shared on Facebook, these new emojis are a sign of the diverse times:
In an effort to make the emojis you send a better representation of our world, you will also be able to pick the skin color you prefer. All you have to do is set the color you want your default emojis to be when Messenger launches, and your emojis after that will follow your preference. Of course, you'll have the option to change this in settings or even make a one time decision. Also, at launch, we have emojis representing red heads for the first time.
So maybe instead of going all "angry eyebrows, devil face" on the new Facebook emojis, we can be more "quizzical face, shrug" and just wait and see how we feel.
Or go back to our comfort zone, I'm good either way.