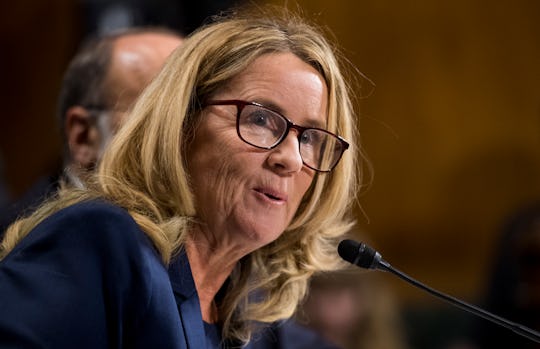 Pool/Getty Images News/Getty Images
Here's How You Can Personally Thank Dr. Christine Blasey Ford For Her Courage
Dr. Christine Blasey Ford, the woman who accused Supreme Court nominee Brett Kavanaugh of sexually assaulting her at a high school party in 1982, mustered up her courage on Thursday to appear before the Senate to deliver sworn testimony about her allegations. The move took a lot of bravery, to put it mildly, and now many people may want to how to thank Dr. Christine Blasey Ford for speaking out.
Ford never wanted to appear before the Senate to relive the alleged assault she says she experienced one night in the summer of 1982. "I am here today not because I want to be," Ford said at the hearing, according to USA Today. "I am terrified."
But given what's at stake if Kavanaugh is confirmed to the Supreme court, Ford made the admirable decision to share her story publicly.
"I believed he was going to rape me. I tried to yell for help. When I did, Brett put his hand over my mouth to stop me from screaming," Ford alleged in a prepared statement, according to CNN. "This was what terrified me the most, and has had the most lasting impact on my life. It was hard for me to breathe, and I thought that Brett was accidentally going to kill me."
Kavanaugh has denied Ford's claims, according to NBC News, and he argued that the allegations against him are nothing more than a "search and destroy effort" by "left."
Although many people applauded Ford for giving a voice to sexual assault survivors around the world, some people — including President Donald Trump — have lodged personal attacks against her character.
"Thirty-six years ago, this happened. I had one beer, right? I had one beer!" Trump mockingly said about Ford's testimony on Tuesday night, according to Us Weekly. "'How did you get home?' I don't remember. 'How'd you get there?' I don't remember. 'Where is the place?' I don't remember. 'How many years ago was it?' I don't know."
But while there are plenty of people out there who seem to take pleasure in Ford's pain, there's an overwhelming amount of citizens who back her 100 percent.
Journalist Connie Chung released a public letter on Wednesday supporting Ford in her journey, even going as far to reveal her own sexual assault. She wrote, according to The Hollywood Reporter:
Christine, I, too, am terrified as I reveal this publicly. I can't sleep. I can't eat. Can you? If you can't, I understand. I am frightened, I am scared, I can't even cry. Christine, I know the truth, as you do ... I wish I could forget this truthful event, but I cannot because it is the truth. I am writing to you because I know that exact dates, exact years are insignificant. We remember exactly what happened to us and who did it to us. We remember the truth forever.
Chung ended the letter with, "Bravo, Christine, for telling the truth."
If you would like to write your own message of encouragement to Ford, rest assured that it's completely doable. All you have to do is buy a postcard, write your note, and then send it in the mail to her work address, according to Scary Mommy.
Kristen Podulka, a neighbor of Ford's in Palo Alto, was the one who came up with the smart idea, telling the Palo Alto Daily
I didn't want to go to her house and have a candlelight vigil. I chose the card-writing because it's an un-intrusive way of showing support. The trolls online and the people with negative thoughts … tend to speak the loudest, so I would like to send her notes of appreciation to try to drown that out if possible. I thought, "OK, let's counteract her hate mail with love mail."
According to the National Organization for Women, Ford's work address at Palo Alto University is:
Dr. Christina Blasey Ford
c/o Palo Alto University
1791 Arastradero Rd
Palo Alto, CA 94304
Although a postcard might seem like a small gesture in light of Ford's large sacrifice, know that every bit of support counts. Ford deserves love and kindness at this time, so don't hesitate to reach out and share your support and gratitude.