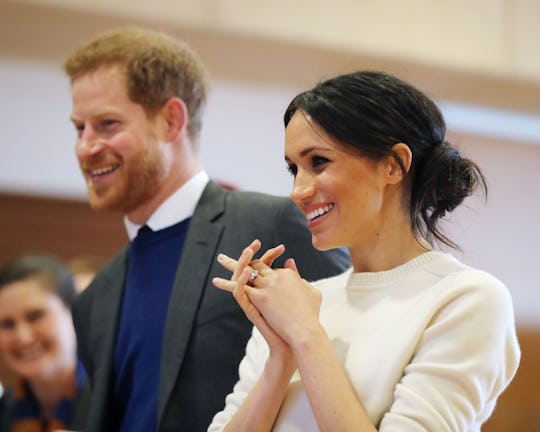 Pool/Getty Images Entertainment/Getty Images
Everything You Need To Pull Off A Memorable Royal Wedding Watch Party
I'll admit that I wasn't terribly excited about the very early start time for the royal wedding until I thought about the fact that this is probably the last royal wedding we'll get to watch for the next 20-30 years, when Prince George, Princess Charlotte, or Prince Louie get old enough to get married. So if you're similarly intrigued, here's your primer for throwing your own royal wedding viewing party, with everything you need to know to make it a festive morning, despite it's early call time.
First things first, the royal wedding between actress Meghan Markle and Prince Harry is this weekend, on May 19. For those across the pond in England, it starts at a reasonable hour of noon, but the run-up of guests arriving starts hours before. Of course, for us Americans, it's going to be an early start to make sure we catch all the fascinators and morning suits before the main event, with coverage beginning at 4 a.m. Eastern time. Yikes. That means people on the west coast may as well pull an all-nighter!
Luckily, you won't have to spend much time flipping through the channels to find the royal wedding; live streaming will start at 4 a.m. on MSNBC, CBS, PBS. If that's a little too early to tune in, NBC. FOX, ABC, and E! will start their coverage at 5 a.m. And if you don't mind scrolling through Twitter to find the best dressed outfits from the guests that morning, you can simply tune in before Megan is about to walk down the aisle at 7 a.m. EST.
If you're one of the growing number of people who doesn't have cable, not to worry. You'll still be able to live stream the royal wedding from a whole lot of sites, starting at about 4 a.m., depending on the site. You can livestream the event on ABC by logging on to ABCNews.com or on BBC America at BBCAmerica.com. The New York Times will be livestreaming the event on their site, as will CBS.
If you're inviting friends over to watch the royal wedding, you may as well take the opportunity to send an adorable e-vite to your watch party. This Etsy digital invite is only $10 and you won't be waiting on shipping or the postal service to deliver invites.
Or even cheaper, this digital invite for $8 can save you a few bucks to spend on tea.
Seeing as your party is probably going to start before the sun comes up, you might want to go easy on the dress code, allowing guests to attend in their finest pajamas rather than royal wedding-worthy attire. A prize for best robe probably wouldn't go astray, and you can reward the winner with a Harry & Meghan t-shirt. And while you might not feel like putting on a floor-length gown, setting up a fascinator crafting station is pretty simple with this DIY tutorial, a little tulle and a few sequins or bits of lace.
If you have young kids attending, pick up a few of these Harry & Meghan paper dolls to keep them occupied while you judge every gown and top hat on each of the guests. And for the sporty attendees (big or little), how about a royal wedding commemorative basketball hoop?
As for the menu, stick to breakfast food; getting up at 4 a.m. is tough enough without having to scarf down watercress tea sandwiches or shepherd's pie. Instead, try out a few British breakfast delicacies like Scotch eggs, Yorkshire pudding, or crumpets. Offer a whole bunch of berries with fresh whipped cream and you'll have something for everyone's breakfast to keep you all energized throughout the historic day.