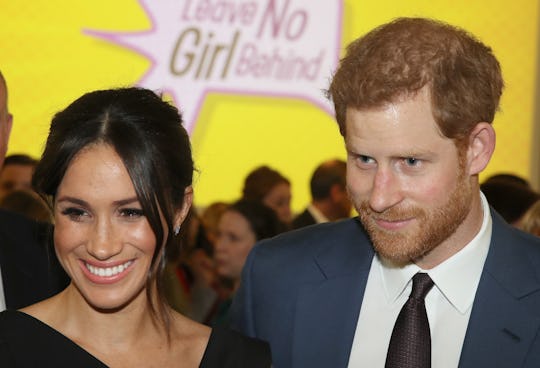 Chris Jackson/Getty Images Entertainment/Getty Images
Royal Wedding Fans, You *Need* These Hilarious Harry & Meghan Paper Dolls In Your Life
It's not very often that the world gets treated to the spectacle of a royal wedding, and it's even more infrequent that such a wedding involves the U.K.'s most elusive eligible bachelor and a stunningly gorgeous Hollywood actress. So it's no wonder that people everywhere are preparing for the upcoming nuptials of Prince Harry and Meghan Markle like it's a full-on holiday, paying homage to the couple in every pop culture-inspired manner imaginable. Case in point? A new Royal Wedding paper doll book featuring a mini Prince Harry and a tiny Meghan Markle that comes complete with an assortment of outfits and fun facts about the soon-to-be husband and wife's romance. (Oh, and guess what? There's a Harry & Meghan coloring book, too. It's like Christmas all over again!)
If you were looking for something to do while you're watching the ceremony live from your couch (besides sipping tea and snacking on scones), Royal Wedding: Harry & Meghan Paper Dolls from Random House is available on Jet for $8 and gives devoted fans the chance to dress up their one-dimensional royals in a surprising variety of ensembles: Their engagement outfits, camping outfits inspired by their time in Botswana, red carpet-appropriate attire, potential wedding clothes (of course) and even unicorn onesies (hey, who knows what they wear at home?). Plus, there are plenty of interesting tidbits about their courtship to help inform your pretend play scenarios. And just look at how adorable the illustrations are!
Imagine dressing these cute little flat celebs in their different lewks! You can even reenact some of their most memorable moments. Or, even better, use your imagination and concoct your own scenarios. Here are Harry and Meghan going on a romantic moonlit stroll. Oh, now they're having a picnic on the beach. And oh, now Meghan is going shopping! (Harry is patiently waiting with her bags while she tries clothes on. What a guy.) The only potential problem with these paper dolls is that you very well may have to hide them from your kids. They can stick to Peppa Pig, thank you very much. (She has a British accent, too.)
And then there's the coloring book: A fairy tale just waiting to be told with the help of your superior crayon skills. Harry & Meghan: A Love Story coloring book (also available from Jet, for $10) includes "30 beautiful and ready-to-color illustrations that capture the magic of their heartwarming love affair." Bonus: The pages are "perforated for easy removal," so you can even put your finished pictures on display. Because honestly, your hard work deserves to be framed and hung on the wall for all the world to see.
Awww! So in love, those two. You can tell because there are little hearts all around their heads, like Sally from Peanuts whenever Linus shows up. Harry is totally Meghan's sweet babboo.
Seriously, one of the best trends in recent history has got to be the adult coloring book explosion. Not only is it now perfectly acceptable to crack open a new box of crayons and do your thing, you're no longer forced to "borrow" your kid's books — which is awesome, because even though coloring in Disney princesses is undeniably satisfying, kids get all huffy about their favorite pages being "ruined" (hmmph).
At the end of the day, it just feels like these books are sort of a mandatory purchase for any bonafide fan of the royal family. Collectors take note: It might not be a bad idea to get two copies of each, because these babies just might get more valuable as the years pass — but only if they haven't been used beyond the point of all return. And there's no way you're going to be able to not play with them.
Wonder how Harry and Meghan feel about being turned into paper dolls? Probably just fine.