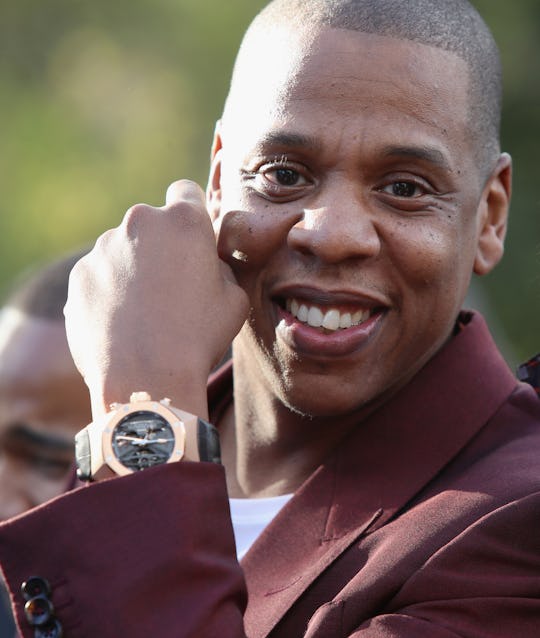 Ari Perilstein/Getty Images Entertainment/Getty Images
Here's How You Can Watch JAY-Z's '4:44'
With the birth of Beyoncé and JAY-Z's twins into this earthly realm just a few weeks ago, June has been a national Knowles-Carter family extravaganza. And it's not just the two new little royals that the couple has produced: As promised, JAY-Z closed out the month with the highly anticipated release of his album 4:44, and a visual component is reportedly on the way, too. Anyone who's dedicated to staying up on all things Bey and JAY is definitely going to want to catch the film in addition to blaring every song on his latest studio album out their car windows. So, here's how to watch 4:44 uninterrupted and from the comfort of your own home.
JAY-Z announced the release date for his 4:44 project (as well as the latest stylistic rendering of his name) earlier this month, shortly after unconfirmed reports that his twins had arrived took over the internet. Along with cluing in fans of the imminent release date, JAY-Z revealed a wholly unsurprising fact about who will have access to the project. According to Business Insider, 4:44 is streaming only on Tidal, the mogul's subscription-based music streaming service — at least for now. Sprint customers are also in luck, as they're all entitled to a free six-month Tidal HiFi membership as a result of the company's having purchased a 33 percent stake in the service.
Right now, it's unclear when subscribers to other streaming services, such as Spotify and Apple Music, will be able to get in on the action and listen to the album. For comparison, Kanye West's 2016 album, The Life of Pablo, was a Tidal exclusive for about six weeks before it migrated to other platforms as well. And when JAY-Z's wife, Beyoncé, unveiled her visual album Lemonade last year, it streamed solely on HBO and Tidal. Fans could also download it from Amazon Prime and iTunes post-release.
It makes sense that JAY-Z would opt to release new material on his streaming service and his streaming service alone with the intention of courting new subscribers. And when it comes to the visual component of 4:44, he's certainly promising quite a show to ensure maximum interest. According to E! News, he cast entertainment titans Danny Glover, Mahershala Ali, and Lupita Nyong'o in the film.
Call me a sucker for marketing, but this seems like a powerful incentive to sign up for a Tidal account ASAP. Especially when you consider that Bey will likely release any upcoming new music or visual art project on Tidal first, too. One note of caution for when you do watch, though: 4:44 is rated NC-17, so it may be a good idea to stream after the kids are in bed.