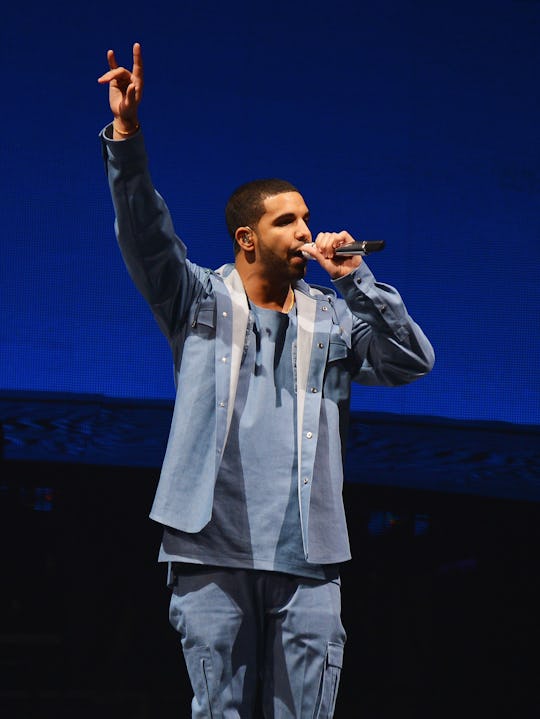 Stephen Lovekin/Getty Images Entertainment/Getty Images
How To Watch Drake's Summer Sixteen Tour If You Can't Get tickets
Truly, I can't handle any more surprises. Between Beyonce and Lemonade, Ryan Gosling and Eva Mendes having their second baby, and Drake's new album Views, I'm getting too worked up. When did celebrities decide that this terrifying combination of delayed gratification and surprise element was good for us? I mean, to be fair here, the marketing ploy doesn't seem to be hurting anyone's sales, right? So of course, just before dropping his Views album, Drake also announced that he would be embarking on a Summer Sixteen Tour, aptly named for a now-missing single that was originally thought to be a part of the new album's track list. Given how exciting a year he's had so far, tickets to the tour will definitely be hard to come by. So how do you watch Drake's Summer Sixteen tour without tickets?
You might remember "Summer Sixteen" as the first single Drake dropped back in February, which hit the number one spot on Billboard's Hot R&B/Hip Hop chart (and which, as previously mentioned, is not included on his Views album). Drake will be teaming up with Future (the two teamed up to create a mixed tape, What A Time To Be Alive, in September) on the tour, which kicks off in Austin, TX on July 20, hitting cities across North America until it ends in Vancouver on Sept. 17. Drake will be performing in Toronto for the three day OVO Festival, bringing along big names like Snoop Dogg, Whiz Khalifa, and Diddy to pay homage to Drake's beloved hometown.
Tickets for Drake's Summer Sixteen Tour have been on sale since the end of April. Prices vary, of course, depending on dates and seat location and can run anywhere from $49.50 to $123.25 at the same concert. But if you don't get your hands on tickets or can't quite afford it right now, don't worry — there will probably be another opportunity for you to catch the show anyway.
Drake has been enjoying a massive resurgence in popularity since his fourth studio album Views was dropped for downloading on Apple Music in April. The album debuted at number one on the Billboard 200 chart (and even managed to beat out Queen Bey's Lemonade) and his single "One Dance" took the number one spot. Compounding those successes, Apple then announced it would sponsor Drake's Summer Sixteen Tour, the first time Apple has backed a concert tour at all. No small feat.
Because Apple is acting as tour promoter for Drake, chances are strong that the tour will be available for streaming on Apple Music. Apple has hosted the Apple Music Festival in London (formerly known as the iTunes Festival) since 2007 and it offers livestreaming to its subscribers — which is probably good news for Drake fans who haven't gotten their tickets lined up. Of course, nothing has been announced yet, in the way of any live broadcasts or streaming offers, so don't get settled in just yet — there's still a ways to go.
Regardless, those hoping for a sneak peek at the highly-anticipated tour can cross their fingers that Apple does them two favors: One, offer Drake's Summer Sixteen tour for live streaming, and two, not keep them in perpetual suspense. A person can only take so much, after all.