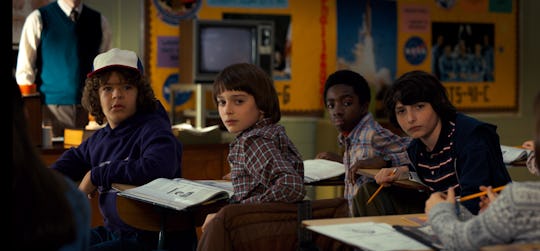 Courtesy of Netflix
Here's How To Watch Netflix's New 'Stranger Things' After-Show
It was only a matter of time until Netflix decided to dip its toes in after-show discussion segments. AMC does it for The Walking Dead with the after-show special Talking Dead. And now, Stranger Things is getting the same sort of treatment as well — and not a season too soon, might I add. But the details on how to watch Netflix's new Stranger Things after-show are important. Since it's not a network TV show, watching the after-show is going to be a little different than an installment starting up right after an episode of a weekly show airs.
According to The Hollywood Reporter, the seven-episode inaugural season of the after-show Beyond Stranger Things will kick off automatically after you've finished the Stranger Things Season 2 finale. So instead of trying to find an episode that correlates with each Season 2 episode of Stranger Things, the after-show is meant to be viewed after the entire second season of the show. If you try to watch it before you're finished with Season 2, you could be subject to some major spoilers, and there's nothing fun about unsolicited spoilers for a show with various twists and turns like Stranger Things is known to deliver.
Although some shows have tried (and, sadly, failed) in the past to have after-show specials, like Game of Thrones and Bachelor in Paradise, the Stranger Things after-show will be produced by Embassy Row, the same company behind the massive success of Talking Dead, and will be hosted by actor/producer/writer Jim Rash, who you may also know from Community and Netflix's freshman series Girl Boss.
As expected, Beyond Stranger Things will feature discussions of the newest season, as well as theories and some behind-the-scenes looks that fans may not be privy to otherwise. Along with co-creators Matt and Ross Duffer, the Stranger Things after-show will also include a lot of the core cast as well. But instead of sitting around a makeshift living room, they'll be at the Dungeons & Dragons table in a makeshift basement, which is a million times better.
The Beyond Stranger Things after-show is Netflix's first foray into the after-show market and, if successful, there's no reason to suggest that fans of other Netflix Original programming can't expect some of the same in the future. But because it's all new, fans are sure to ask how to watch the new Stranger Things after-show even before they're finished binging on Season 2. But in order to prevent any spoilers that could be given away on the talk show, I highly recommend that you don't seek it out prior to watching all nine episodes, or else risk being spoiled at your own peril. Though, if that's really what you want to do, it'll be available at the same time that Stranger Things Season 2 debuts on Friday, Oct. 27.
Matt and Ross Duffer recently spoke to The Hollywood Reporter about the success of Stranger Things and how it feels as they're about to embark on Season 2, versus how it felt last year, when the show was about to premiere as a whole for the first time ever. "This a very different feeling than last year when we were afraid that it was going to get lost," Matt admitted. "Now we know that people will watch and, of course, everyone has expectations. We will be scouring social media to see the response."
The fast success of Stranger Things is definitely in part because of some of that '80s nostalgia, but also the fact that it's genuinely original among all of the other Netflix Original series out there right now. So giving Stranger Things an after-show seems like a no-brainer at this point.
Since Stranger Things typically leaves you with more questions than answers after each episode (but I'm definitely not complaining), an after-show is probably the perfect thing to incorporate into everyone's binge-watching experience. It'll also give another look into the show, as it's going to feature fan art and even a fan-remixed version of the original Stranger Things theme song. And there's no denying the mystery and intrigue that the fictional Hawkins, Indiana dredges up each episode, so having a new Stranger Things after-show on Netflix is the perfect way to handle it all moving forward.
Watch Romper's new video series, Romper's Doula Diaries:
Check out the entire Romper's Doula Diaries series and other videos on Facebook and the Bustle app across Apple TV, Roku, and Amazon Fire TV.