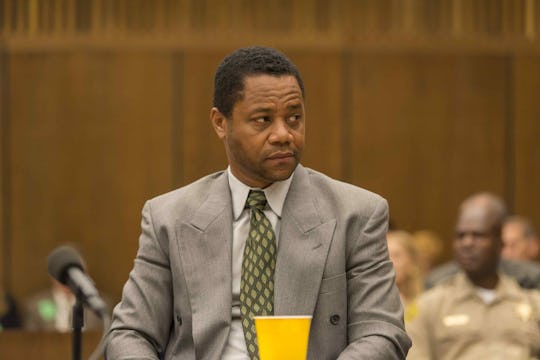 FX
How To Watch The 2016 Emmy Nominations, Because You'll Want To Be The First To See Them
That's right, Emmy season is already creeping up on us, which means that we'll have the remainder of the summer to think about the nominees in question until the actual award show on September 18. But if you want to know who the nominees are first, then you're probably already trying to figure out how to watch the Emmy nominations, and you aren't alone there.
The 68th Emmy nominations will be hosted by Anthony Anderson and Lauren Graham in a live webcast here on Emmys.com on Thursday July 14 at 11:30 A.M. EST. Watching the Emmy nominations on a live webcast may seem a little different compared to the actual award show come September, but it also gives you the chance to watch it almost anywhere, television be damned. And it inadvertently pays homage to what may be a running theme this year on the Emmys (hey, streaming services!).
And that would be the fact that these days, there are enough TV shows available on streaming services to garner them a category of their own at the Emmy Awards. While there isn't such a category, there are plenty of rumored Netflix TV shows up for nominations, and the fact that the Emmy Award nominations are going to be on a live webcast prove how relevant streaming really is.
The actual Emmy Awards will air on live on ABC in September, but instead of having the Emmy nominations stream on ABC.com, they'll be hosted on the website of the Emmy Awards themselves, so they aren't catering solely to streamers, but they certainly aren't biased. When the Emmy Awards air on September 18, Jimmy Kimmel will be hosting, likely bringing to the table lots of inappropriate jokes that he'll try to get away with, given the "live" nature of the awards show. We can only hope.
Just in case you forgot, the categories to look out for this year on the Emmy nominations ceremony include Outstanding Lead Actor and Actress in both drama and comedy series, Outstanding Drama and Comedy Series, Outstanding Supporting Actor and Actress, and Outstanding Limited Series. These days, there are several of the latter to choose from (i.e. American Horror Story, American Crime Story, Fargo, etc.), proving that there is always the possibility of adding new and exciting categories to the Emmy nominations.
How to watch the Emmy nominations this year doesn't depend on whether or not you're of the no TV household, but really, just if you have high-speed internet or not. Because you aren't going to want to deal with lagging or buffering (do we ever like dealing with those though?) when Lauren Graham and Anthony Anderson are hosting the Emmy nominations Thursday online. The only thing left to do now is hope and pray that our girl Bey gets a nod for Lemonade and that Kit Harrington gets some recognition for Game of Thrones, for once.