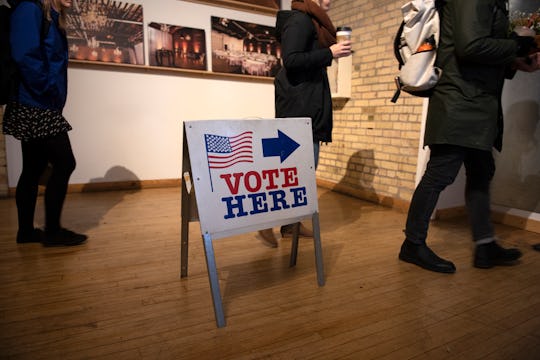 Stephen Maturen/Getty Images News/Getty Images
There Are A Lot Of Ways To Watch The Midterm Voting Results Tuesday Night
You've done your part for your fellow Americans and visited the polls or sent in your absentee ballot. Now, it's time to wait all day until the election results are aired, so voters everywhere are probably going to be asking how to watch the midterm voting results on TV. In most cases, the coverage starts pretty early despite polls across the country closing at different times throughout the evening.
Essentially every major TV network is set to air an election day special. You can watch the midterm voting results on ABC with its 2018 Midterm Election special at 8 p.m. ET. But if you want to start watching the coverage sooner, ABC's website and digital app will begin streaming coverage at 4:30 p.m. ET. CBS will air a similar special beginning at 8 p.m. ET, but the official CBS News app will start their own live stream at 5 p.m. ET.
Live election coverage for Fox will begin at 6 p.m. ET on TV as well as the Fox News Go website and streaming service at the same time. And NBC also has planned coverage starting at 8 p.m. ET. Basically, if you happen to turn on any news channel or a network TV station, you'll be getting a lot of the same midterm voting coverage.
And just for good measure, The Daily Show with Trevor Noah will air its own midterm election special, Democalypse 2018: Let's Try This Again, America at 11 p.m. ET. You know, for the *cool* voter in you. There are also specials set to air on PBS, CNN, CSPAN, and MSNBC, so there's no shortage of ways to watch continued coverage all evening long.
Because polls close at different time across the country and time zones, however, the midterm voting results are going to trickle in sporadically. Polls in Indiana and Kentucky, for example, close at 6 p.m. ET, whereas Alaska polls close at 12 a.m. ET. So results from Alaska's voting won't likely be available until 1 a.m. ET. So realistically speaking, the final tally of all state and local votes across the country will be revealed Tuesday night through the early hours of the morning on Nov. 7, though there will still be live coverage and other results throughout Tuesday evening.
The midterm elections are important not only for state and local levels of government, but also for the U.S. House of Representatives and Senate. The results could mark a turn of power in the House from Republican majority to Democrat. The entire House, which includes 435 members, are up for re-election, which could mean a major shift if votes turn out that way. This is also what all of those levy signs in your neighbors' front yards were leading up to, so on a local level, it's just as important.
Since almost every major network is airing the midterm voting results in some capacity, you'll be able to switch between each one freely without missing much. You'll also be able to take a break from the live coverage if you need to since most of the specials will air all evening. If you don't have time to stay up to catch all for the live midterm election day coverage, then chances are, you'll be able to hear about it on various news outlets Wednesday morning. But for results across the board, it all starts on most networks and streaming platforms as early as 4:30 p.m. ET.