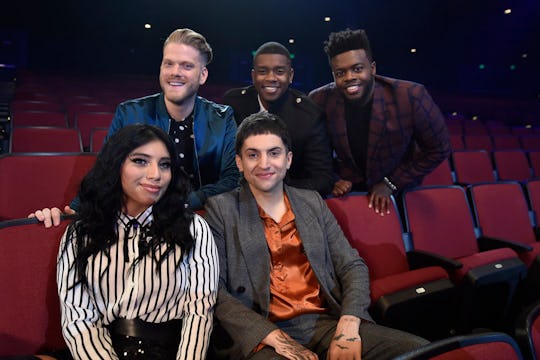 David Becker/NBC
The 'Pentatonix: A Not So Silent Night' Special On NBC Can't Be Missed
The Pentatonix are a staple of the holiday season. Over the years, they've taken different Christmas songs and turned them into works of a cappella art. Now, they have their own holiday special coming up and you're definitely going to be wondering how to watch the Pentatonix: A Not So Silent Night special. The pre-recorded special will feature the Grammy Award-winning group and tons of musical guest stars including the Backstreet Boys and Kelly Clarkson. They'll celebrate the holidays the best way they know how — through song and dance. It airs on NBC on Dec. 10 at 10 p.m. ET.
The easiest way to watch Pentatonix: A Not So Silent Night is going to be live on NBC, but if you don't do the whole TV thing, you can watch it live on the NBC app, provided that you have access to the app. You might also be able to watch it on the NBC website afterward or on the app the following the day. Because Hulu and NBC have a relationship, I also wouldn't be surprised if the special was available on the streaming platform in the days following its initial air date.
But if you have access to Hulu Live, you'll be able to watch it that way on NBC as well. There's really no reason not to watch Pentatonix: A Not So Silent Night, unless of course your name happens to contain the word "Grinch" in it or you somehow hate a cappella. In which case we can't be friends.
You might even be able to watch part of the Not So Silent Night special on YouTube. There are already a few clips posted, so if you don't mind watching it in fragments, that might be your place to go, although one little taste of the special really isn't enough. In one clip of the group singing "Rockin' Around The Christmas Tree," they're decorating their tree while singing and somehow make all of the instrumental noises with their mouths too. I know, it's what they do, but you can't help but be impressed and hypnotized every time they do it.
The Pentatonix were given their first NBC special, A Pentatonix Christmas Special, in 2016 and since then, they've blown up bigger than they already were. They'd already had a collective cameo in Pitch Perfect 2 as a competing a cappella singing group and they played an a cappella band in a 2016 episode of Bones. Whether you're more inclined to listen to The Pentatonix during the holidays rather than throughout the rest of the year, they have something unique that you can't *not* smile at every time you hear them. They also just seem like the most fun to see live, which adds to their overall appeal.
In 2017, the group spoke to Entertainment City in Canada about being the voice of the holidays and Christmas specifically, in a way, and they totally embrace it. "I feel very fortunate that we get to have so much success around a holiday that's so festive and so fun. It's just really cool to come to these events and have those opportunities," Kirstin Maldonado said. Mitch Grassi added that they love being able to provide Christmas memories to other people as a singing group. But they've proven that it doesn't just have to be holiday season to enjoy them and their many tours over the years throughout each year have added to their staying power, even when it isn't Christmas carol season.
Pentatonix: A Not So Silent Night airs on NBC Monday night at 10 p.m. ET, but chances are, you'll be able to catch it again afterward on the website and the app. But just in case, your best bet is to watch it live, since there's nothing that says Christmas like Pentatonix.
After experiencing a traumatic c-section, this mother sought out a doula to support her through her second child's delivery. Watch as that doula helps this mom reclaim the birth she felt robbed of with her first child, in Episode Three of Romper's Doula Diaries, Season Two, below. Visit Bustle Digital Group's YouTube page for more episodes, launching Mondays in December.