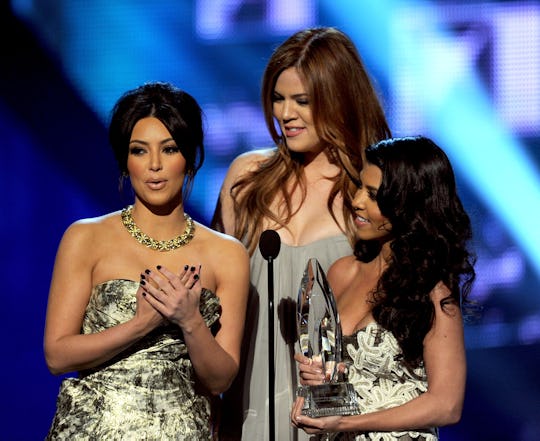 Kevin Winter/Getty Images Entertainment/Getty Images
How To Watch The 2018 People's Choice Awards This Sunday — Yes, It's Streaming
Good news, fellow homebodies: you officially have an excuse to stay in this Sunday night. The 2018 E! People's Choice Awards are finally airing this weekend, and so many of your faves are nominated for awards (and many of those awards are not categories you'll see your average awards show). That said, here's how to watch the People's Choice Awards this Sunday.
The awards show, formerly known as the People's Choice Awards, will be airing on E! for the first time this year, hence the name change to the E! People's Choice Awards. (But don't worry, you can still call it the People's Choice Awards. Old habits die hard, and I'm sure E! knows that.) According to E!, the People's Choice Awards will air live from the Barker Hangar, a huge venue at the Santa Monica Airport in California, from 9 p.m. to 11 p.m. ET. If you have cable, you can watch the show on your TV on all of NBCUniversal's cable channels, including E!, Bravo, SYFY, Universo, and USA Network. Additionally, the show will air in 161 countries, so for those who live outside of the United States, check your local listings.
If you don't have cable (or you sometimes prefer to watch TV on your laptop under the covers like I do), there are a few options when it comes to streaming the People's Choice Awards this year. You can watch the show live via the E! app, as well as on E!'s YouTube and Twitter channels.
And for fashion fans, E!'s Live from the Red Carpet: The E! People's Choice Awards will air right before the awards show, at 7 p.m. ET. The red carpet special will only air on E!
The awards show features 43 — yes, 43 — different categories this year, according to The Hollywood Reporter. I'm personally most excited to see how the KarJenner family fares come Sunday night. Khloé Kardashian is nominated for Realty TV Star of 2018 (which she totally deserves after all the drama surrounding True's birth), and Keeping Up With the Kardashians is nominated for Reality Show of 2018.
Taking a page out of the MTV Video Music Awards' book, the E! People's Choice Awards will feature a few gender-neutral categories this year. I'm pretty excited about the new layers of competition this adds; for example, husband and wife team John Krasinski and Emily Blunt are both nominated for Drama Movie Star of 2018 for their work in A Quiet Place.
Additionally, a few categories feature more women nominees than men nominees, which is pretty dang awesome. For example, Comedy Movie Star of 2018's nominees are three women (Melissa McCarthy, Amanda Seyfried, and Mila Kunis), and two men (John Cena and Nick Robinson), and Comedy TV Star of 2018 also has three women nominees (Kristen Bell, Sofia Vergara, and Drew Barrymore) and two men nominees (Jim Parsons and Donald Glover).
Voting is already closed for this year's PCAs, so hopefully you cast your vote last week. See you Sunday!