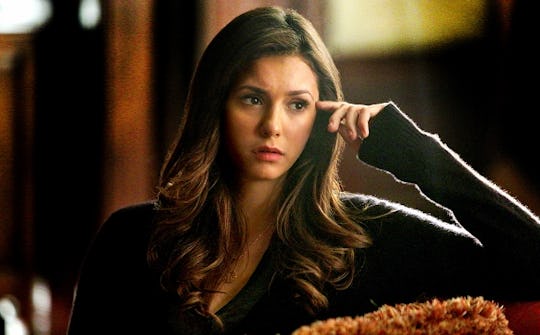 Annette Brown/The CW
How Will Elena Return To 'The Vampire Diaries'? Season 8 Could End In A Time Jump
It's always difficult to see a beloved television show come to an end. For years, you've gotten to know these characters inside and out, so saying goodbye is no easy feat. Sure, they're fictional characters, but much like my vast collection of Babysitters Club books, they've become a part of you. So when word spread that The Vampire Diaries will end after Season 8, many diehard fans (myself included) were understandably devastated. But setting my own personal grief aside, if our time in Mystic Falls has to end, then I want it to go out with a bang. Which is why Nina Dobrev needs to reprise her role as Elena on The Vampire Diaries before the series takes its final bow. The only question is — how will the show go about bringing her back?
As of now, Dobrev's return has yet to be confirmed, however, according to what CW president Mark Pedowitz told reporters during this year's TCA press tour, negotiations are well underway. "There are discussions going on with Nina," he stated. "We'd love to have Nina back. She was great for The CW. She was integral for The Vampire Diaries." Truer words have never been spoken, which is why an Elena comeback seems imminent at this point. But how? Here are a few ways I predict it could play out...
Bonnie Dies
Thanks to Kai, Bonnie and Elena's lives are linked, which means as long as Bonnie is still alive, Elena will remain asleep (which sounds pretty great to me right now, TBH). So it stems to reason that one way to get Elena back would be to lose Bonnie permanently. Granted, this is definitely one of the more morbid options out there, but since the show is ending regardless, I suppose it's one I could live with if it gives Elena a chance to say a final farewell.
The Gang Finds A Loophole
Aside from its affinity to produce epic romances, if TVD is known for one thing it's finding supernatural loopholes to help make problems disappear. So by that logic, there's always a chance the gang will be able to find a way to wake Elena up without losing Bonnie in the process. It's an ideal outcome, for sure, but not one I'm too confident the series will explore. (When have they ever made anything easy on fans?)
A Time Jump Occurs
The most likely option I think the writers will go with is having the final episode jump to a far off time in the future when Bonnie is much older. And just as she closes her eyes, welcoming death after a long and happy life, Elena finally opens her and reunites with Damon. Granted, this would make Dobrev's return to the show relatively short, but hey, I'll take what I can get. Some Elena is certainly better than no Elena at all.