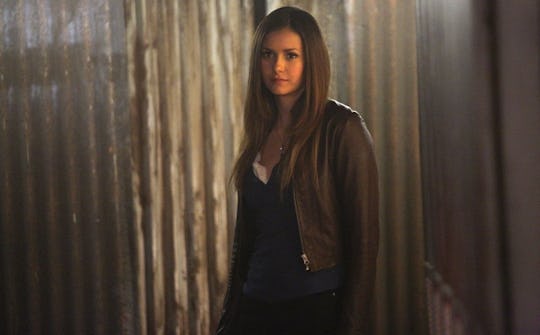 Annette Brown/The CW
Will Elena Be In 'The Vampire Diaries' Season 8? Nina Dobrev Needs To Give Fans Closure
It was a dark and dreary day in the world of television when Nina Dobrev announced she would be leaving The Vampire Diaries after Season 6. How could the show possibly continue on without its lead star? What even is Mystic Falls without Elena Gilbert? It was a question that was explored all throughout Season 7, though, the characters (and fans) continued to feel her presence thanks to the trusty journal entries from her friends. (Hey, this is The Vampire Diaries, after all.) But now that the series is officially coming to a close, fans are continuing to wonder one very specific thing: Will Elena return to The Vampire Diaries Season 8 for one last goodbye? Luckily for fans, the possibility isn't out of the question.
To be clear, nothing has been officially confirmed yet in regards to a possible Elena cameo, however, CW president Mark Pedowitz told reporters at the Television Critics Association summer press tour that the actress was currently in discussions to reprise the role. "There are discussions going on with Nina," he stated. "We'd love to have Nina back. She was great for The CW. She was integral for The Vampire Diaries." I don't know about you, but that all sounds pretty promising to me.
Granted, a large part of this decision will be based on Dobrev's schedule, which is pretty busy these days. So it's all about timing in that regard, but if the series has its way, it sounds that (unlike Taylor Swift) they very much want Elena to be included in this narrative, whether it be in a long arc throughout the season or a brief appearance in the series finale. Personally, I have a feeling it's definitely going to happen. There's just no way this storyline can officially have a proper ending without the girl who started it all in the first place. If viewers must say goodbye to these characters, then it should involve a fitting send-off on all fronts.
And the best part of all is that it would be so easy to fit into the storyline since Elena isn't dead. (Well, technically she is dead due to the whole vampire thing, but you get what I mean.) She's just catching up on some serious beauty sleep thanks to Kai's spell. The only bad news is that in order for her to wake up, Bonnie will have to die given that the two of them are linked. As long as Bonnie's alive, Elena remains asleep. So that would definitely be bad news for Bon-Bon, but maybe the gang will be able to find one last loophole to work around and give everyone a happy ending? Please?
Either way, though, Elena needs to come back before TVD takes its final bow. So come on, Dobrev, give the people want they want.