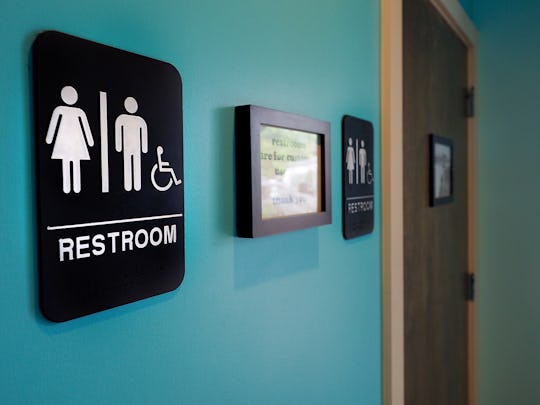 Sara D. Davis/Getty Images News/Getty Images
How Texas' Bathroom Bill Will Affect Trans Kids
Conservative lawmakers have long held the line that restricting a transgender person's bathroom use is the best course of action to protect the safety and privacy of cisgender women and children. It's the line Texas Lt. Gov. Dan Patrick used back in April when he promised to make his so-called "bathroom bill" a top priority of the 2017 legislation session. But, what's purported as "privacy protection" is just coded language for anti-transgender policy that puts the lives of trans youth and adults at risk. So how will the Texas bathroom bill will affect kids?
On Thursday, Patrick kept to that vow when he announced during a press conference at the state capitol that Sen. Lois Kolkhorst, a Republican from Brenham, had pre-filed his deeply transphobic "Texas Privacy Act," according to the Austin Chronicle. The bill, if passed, would bar trans people from using public bathrooms, locker rooms, showers and changing rooms that align with their gender identity, and that would have devastating consequences for trans parents and children in the state.
Under the bill, trans youth attending public schools or open-enrollment charter schools would be banned from using bathroom and changing facilities that are not designated for the "biological sex" listed on their original birth certificate. But these bills like the one filed in Texas, and also recently in Virginia, would force many transgender students to be outed before they are ready, which would expose them to increased incidents of bullying and violence.
According to a recent policy brief from the Fenway Institute and the Center for American progress, one-third of transgender youth already feel unsafe at school because of their gender identity or expression. And as the New York Civil Liberties Union had found, students already targets for threats, harassment, and assault by parents, students, faculty, and school staff a like. (Discrimination against trans students is prohibited under Title IX.) Discriminatory bathroom bills, then, only serve to exacerbate violence and reinforce stigma, taking a toll on trans youth's mental, physical, and emotional health. This is exactly what parents of transgender children fear, according to the Washington Post.
Last month, parents in Texas began to fight back against Republican lawmakers looking to police the bathroom use of their transgender kids. The same pushback happened in North Carolina around the state's deeply transphobic House Bill 2, which passed last year. Although the Texas and Virginia bills make exceptions for people of the opposite sex to use bathrooms if assisting a student or their child on public school or charter school grounds, it doesn't make clear how exactly the law applies to trans parents. Patrick's bill, though, will also prohibit cities from passing non-discrimination ordinances that allow transgender residents to use restrooms aligning with their gender identity, and allow for citizens to file formal complaints with the state attorney general. The Virginia bill would allow people to sue the government if transgender people use the bathroom of their choice.
So far, five states — Alabama, South Carolina, Texas, Virginia, and Washington — have pre-filed so-called "bathroom bills" in the 2017 legislative session, according to the National Conference of State Legislatures. Three other states — Kentucky, Minnesota, and Missouri — have introduced similarly legislation. Like Texas and Virginia, Washington's bill does make an exception for caregivers escorting an opposite-sex child or person with a disability to the bathroom; the caveat, though, is that the caregiver must use the facility that matches their gender. Gender, in Washington's case, is defined as a person's "preoperative, nonoperative, or otherwise" genitalia, making it clear that the bill targets transgender people.
What's most disturbing about this legislation is that it doesn't achieve it's alleged intended purpose. Legislators often tout the "bathroom bills" as preventing predators from being able to prey on children in restrooms. But a study of 15 states that enacted non-discrimination ordinances, which allowed trans people to use the bathroom of their identity, found no increase in predatory crime. And, to make things even worse, studies show that "bathroom bills" that target transgender people actually perpetuate violence against transgender people by people who identify with their assigned gender (known as cisgender people). So, what's happening is legislators are increasing crime perpetuated by the very people they think they're protecting: those who don't identify as transgender.
In May, outgoing President Barack Obama issued guidance mandating that public schools must allow students to use the facility aligned with their gender identity. But in August a Texas federal judge temporarily blocked that policy from going into effect after Texas and a handful of states filed a lawsuit against it. Now, it's clear that transgender people, especially transgender youth, will not be protected as Obama leaves office, and the rates of bully, self-harm, and suicide they already face makes that pretty damn horrifying.