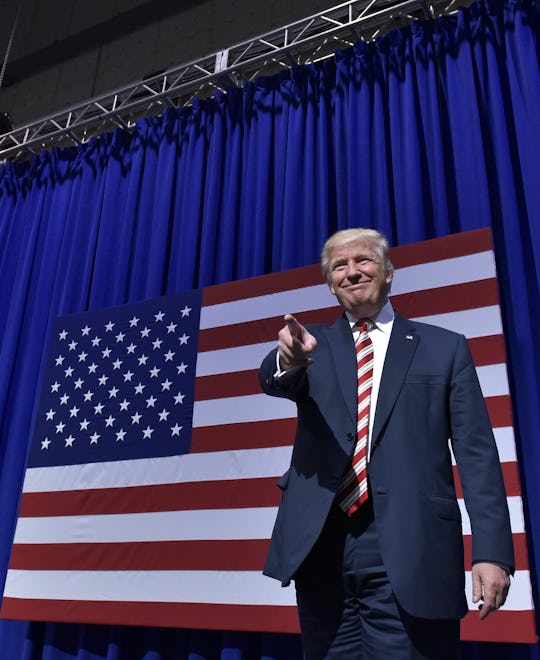 MANDEL NGAN/AFP/Getty Images
How Would Donald Trump Deal With ISIS? He Doesn't Want The Enemy To Know
There's just 45 days remaining until the Nov. 8 presidential election, when millions of Americans will head to the polls and likely cast their vote for one of two people: Democratic nominee Hillary Clinton or Republican candidate Donald Trump. The first of three head-to-head debates between the two is scheduled for Monday at Hofstra University and will center on the topics of "America's Direction, Achieving Prosperity, and Securing America." With Trump making national security a big focus of his candidacy, chances are voters will get a few more answers to this question: How would Donald Trump deal with ISIS?
There's been much media coverage of Trump's plan to build a wall along the Mexican border in an effort to curb undocumented immigration, but less is known about his ideas for fighting global terrorism. In a speech earlier this month at the Union League of Philadelphia, Trump said his foreign policy could be summarized in three words: "peace through strength." He called for an expansion to the U.S. military at an estimated cost of $90 billion per year, at least according to experts; he said he would order his military generals to come up with a new strategy to defeat ISIS; and he proclaimed he'd put an end to cuts on military spending made as part of the 2013 budget sequester. Trump also said that, if elected, he would request that "all NATO nations promptly pay their bills" early in his presidency, according to The New York Times:
Only five NATO countries, including the United States, are currently meeting their minimum requirements to spend 2 percent of G.D.P. on defense.
Since first declaring his candidacy for president in June 2015, Trump has alluded to other potential aspects of his foreign-policy platform in various speeches and comments. They include:
Though Trump has admittedly withheld details on his plans to combat terrorism — telling The New York Times he "wouldn't want [other countries and allies] to know what my real thinking is" — what has been revealed contrasts sharply with his opponent's antiterrorism strategy. So far, Clinton has called for:
Monday's debate, moderated by Lester Holt, will air at 9 p.m. Eastern Time on NBC Nightly News. The debate will be divided into six segments of approximately 15 minutes; each segment will open with a question, after which the candidates will have two minutes to respond. Candidates will then have an opportunity to reply to each other, with any remaining time in the segment used for a deeper discussion of the topic.