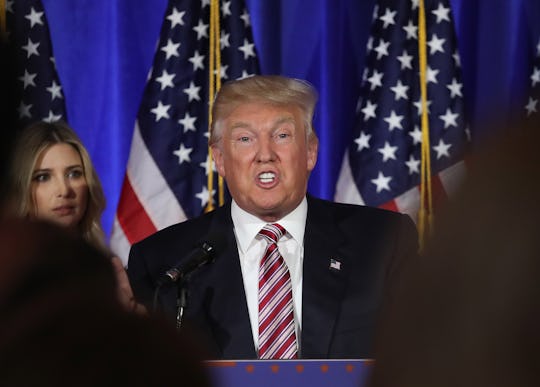 John Moore/Getty Images News/Getty Images
Hundreds Allege That Donald Trump Didn't Pay Them For Their Work
In his ongoing bid to become the next President of the United States, presumptive Republican nominee Donald Trump frequently touts his many purported business successes as proof he'd excel as Commander in Chief. But the real estate tycoon, while claiming that he's "good at business" and "really rich," refuses to make his tax returns public — a traditional practice for presidential candidates. Now, the results of a USA Today investigation published Thursday found that hundreds allege that Donald Trump didn't pay them for the work they did for him in the past, embroiling the mogul in more than 3,500 lawsuits over the past 30 years.
Despite Trump's campaign promises to protect Americans' jobs, USA Today reportedly found that many The Trump Organization hired through the years, from painters to his own lawyers, have brought the organization to court for refusing to honor contracts and fairly compensate them.
"We pay everybody what they're supposed to be paid, and we pay everybody on time," Trump said in an interview with the newspaper, during which he insisted that the complaints make up a small percentage of his overall business dealings "And we employ thousands and thousands of people. OK?"
Analysis of legal action against Trump and his companies — as well as interview with small business owners adversely affected by his practices — seem to tell a different story.
Trump, his companies, and his properties have allegedly been cited for refusing to pay minimum wage and overtime, as well as been slammed with more than 200 mechanics' liens from contractors and employees seeking payment for their work since the 1980s. The overall picture, USA Today's Steve Reilly claimed, tells a different story than Trump does:
The actions in total paint a portrait of Trump's sprawling organization frequently failing to pay small businesses and individuals, then sometimes tying them up in court and other negotiations for years. In some cases, the Trump teams financially overpower and outlast much smaller opponents, draining their resources. Some just give up the fight, or settle for less; some have ended up in bankruptcy or out of business altogether.
The self-proclaimed billionaire has endured criticism for his perceived misogyny throughout the election season so far because of the comments he's made about prominent women like Fox News anchor Megyn Kelly and Heidi Cruz, his former opponent's wife. Trump has denied that he treats women unfairly, but a Boston Globe investigation published last week found that his female campaign staffers are paid only two-thirds of what their male counterparts earn, on average.
He had previously said that if women do the same job, they should get the same pay.
Similarly, although Trump has claimed a dedication to "improv[ing] jobs, wages and security for all Americans," his actual business dealings have put some small businesses out of business, USA Today reported. There are indicators, too, that reneging on contracts and refusing to pay those working for him — even as recently as last month — are allegedly policy at The Trump Organization.
For example, the USA Today report revealed that Trump's company allegedly refused to pay a painter $30,000 for his work at a Doral, Florida, golf resort. To cement the mistake, Trump's attorneys reportedly winced and tried to make eye contact with a witness, the general contractor for the Doral renovation, who claimed during courtroom testimony that a conscious decision had been made not to pay the painter.
Trump is known for his prolific Twitter account, which he frequently uses to sounds off and insult those who challenge him. The USA Today piece was published just before 6 p.m. June 9, and, as of press time, Trump had not responded. The revelatory article comes after The New York Times published an exposé about how Trump has treated women throughout his career in May, and between now and the general election in November, there will undoubtedly be more to come.