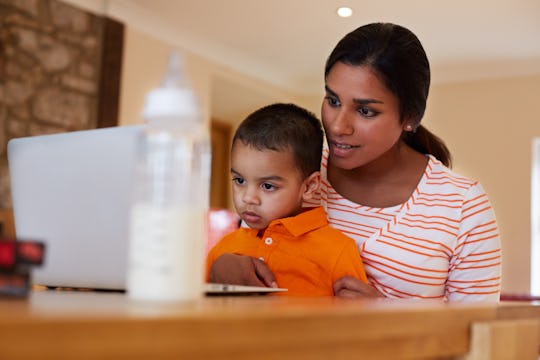 micromonkey/Fotolia
I Asked Facebook How To Get My Kid To Stop Throwing Stuff & They Delivered
I can't be the only one who struggles with getting my kids to stop throwing things, right? My second kid threw a toy train when he was 2-years-old that cracked a huge, custom-made, wall-sized window. I was not happy when I had to replace it, two years later, when we were selling that house. So when my newest toddler started throwing things, too, I was desperate to stop it. So I did what all good millennials do and I asked Facebook how to get my kid to stop throwing stuff. You guys, this is why the internet is awesome. Well, you know, when it doesn't suck.
Thanks to my friends from all over the country, not only did I get some immediate (and not to mention necessary) laughs, but I also get some advice that really freaking works. I don't know about you, but when you're a mama of three littles it kind of seems like you're always just winging it. The internet, as shitty as some stuff you can find on it is, is also a real life sanity savior when I'm at the end of my rope. I need to know I'm not alone in not always having answers to my children's less than ideal behavior. I also really needed ideas on how specifically to handle said behavior.
Facebook friends, you sure came through.