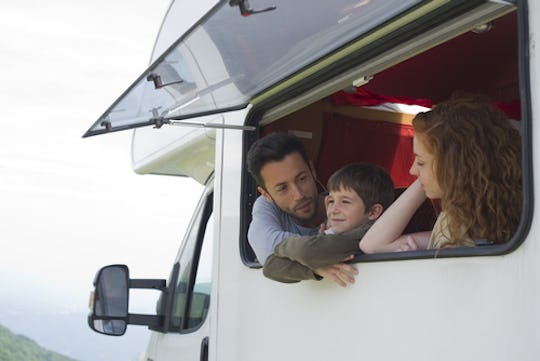 Courtesy of PhotoAlto/Fotolia
I Decided To Roadschool My Kids In An RV, & I've Never Looked Back
Both of my kids were enrolled in some form of school since they were babies, and we were all happy with it. I liked that they were comfortable with caretakers and authority figures besides their parents. When they were younger, I liked that they were in a mixed-age daycare, and I liked that they were making friends and bonding with their peers in school. Basically, I never thought I would homeschool.
Even though I knew that homeschooling has become much more mainstream, and knew families personally who homeschool (and were totally normal!), I had no interest in doing it myself. First of all, I had a full-time job and enjoyed my career. Secondly, I saw how great the teachers and caregivers were, and I didn't think I could fill that role. Frankly, part of me still felt that homeschooling was more for the religiously conservative, super-crunchy, or socially isolated, even though I knew that perception was inaccurate.
We're not just homeschooling — we're roadschooling, or finding learning opportunities as we travel.
So when my husband and I decided to sell our house, buy an RV, and embark on a now-or-never adventure of traveling around the United States full time, I had to face all of my preconceived notions about homeschooling. Not only would I be homeschooling my own kids, but I would be taking them away from their neighborhood, school, and friends. Ultimately, I never thought I'd be the mom who homeschooled her kids, but I'm so glad I did.
When we hit the road in the summer of 2016, we were in vacation mode, along with everyone else in the campgrounds. Once the crowds started clearing out and my Facebook feed filled with back-to-school photos, I decided to get our little school in session. At first I tried to mimic a classroom setting as much as possible, but it was hard to maintain a formal structure when we were moving around so much.
Now that we've gotten the swing of things, the kids are learning and reading a lot more outside of their workbooks. That's because we're not just homeschooling — we're roadschooling, or finding learning opportunities as we travel.
As we cross state borders and take brief trips into Canada and Mexico, the kids have gained a firsthand understanding of North American geography. We visit local museums, as well as state and national parks. We study the history and geology of wherever we happen to be, and reinforce those lessons by finding connections in other places. For example, we once visited a waterfall near Green Bay, Wisconsin that emerged from the Niagara Escarpment geological formation. A few weeks later, after traveling around the Great Lakes through Michigan and Ontario, Canada, we got to see Niagara Falls up close. It was remarkable to see them learn that this immense and powerful natural wonder was connected to that small, hidden waterfall we saw in Wisconsin.
Wequiock Falls in Wisconsin.
I insisted on each kid keeping a handwritten journal from the start of our trip. Even though there is still grumbling when I tell them to get their journals out, it's been a great way for them to not only record our experiences in their own words, but also to learn how to tell stories. Many of the first entries went something like this: "We arrived at our next RV park. Then we went to another National Park. Then we went to bed." But after we asked them to imagine they were talking to their friends about their day, they learned to be more specific.
One of the best things about this whole experience is that it opens up possibilities for the future.
We've been on the road for almost a year now, and for the most part, we've found a happy medium between traditional school work and roadschooling. As we explore our ever-changing backyard and make new friends, the kids are thriving socially. Academically, both kids are doing well with lessons above their actual grade levels. They are free to read whatever they want, and while they love to gorge on picture books when we visit libraries, our 8-year-old read the Harry Potter series in a few months, and the 6-year-old has gone through a Roald Dahl collection more than once. He's also fascinated by "weird but true" facts and really bad riddles. We've also started integrating math problems into the day, from testing probability in card games and Yahtzee, to calculating mileage as we travel.
The kids with a ranger at Death Valley National Park in CA.
One of the best things about this whole experience is that it opens up possibilities for the future. We've been on the road for a full school year so far, and when we talk about settling down again some day, the kids like the idea of being back with a group of longterm friends and getting to participate in sports and other activities. If we find that this has been an amazing one-off experience and we're all happy back in a more traditional routine, great! But if re-entry doesn't go well for the kids, or if we decide that we prefer life on the road, I now know from experience that homeschooling is an option for us — even though I never would have considered it before.
Check out Romper's new video series, Romper's Doula Diaries: