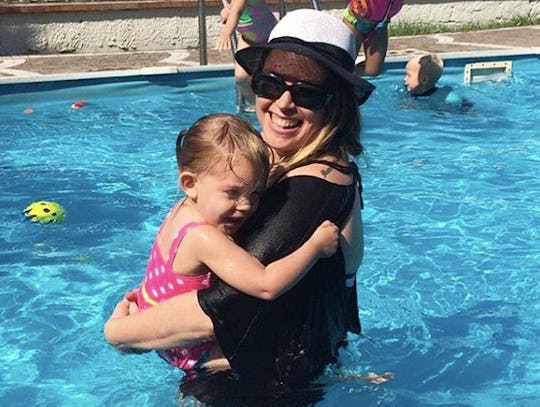 Courtesy of Stephanie Baroni Cook
I Recreated 5 Celebrity Mom Instagram Photos & This Is What Happened
I think we can all agree here that the celebrity moms of the world are beautiful. They've got time and money to hire personal trainers, stylists, and maybe a nanny or two. Celeb women with kids are dressed flawlessly, even when they're running out to grab coffee, and I'm over here like, uh ... I feel fancy in a clean pair of jeans and a top that doesn't have dried breast milk on it. The small amount of free time I do have certainly isn't spent on shopping for my next pair of Louboutins or attending awards shows. It's usually spent doing things like school drop off/pick up, cleaning up the pink hair dye my daughter managed to spill on the carpet (don't ask how she got it), fitting gym time in the mix, volunteering, and hopefully having the energy to cook dinner.
And even though these gorgeous celeb Instagrams offer a peek into their perfectly executed worlds, I know better. I know a perfectly timed photo isn't really revealing much. Sure, you can prop and pose and smile from ear-to-ear, but do celeb moms truly have a leg up on the rest of us? Yeah, the extra hands help, but they don't tell the whole story.
The Experiment
I was curious to see if my daughter and I could recreate five super-popular "Mom-stagrams." If I smiled wide, and added a cool filter, would I feel like Gwen? Could we cuddle up like Alyssa Milano and look stunning, even in our PJs? Would we even have time to snap enough selfies in order to get a 'gram-worthy shot?
Come hell, high water, or a full photo stream, we were going to find out.
Attempt #1: Babywearing Like Gwen Stefani
Gwen Stefani
Damn it, Gwen! Why do you have to be so cool? I have literally never met anyone in real life who looks that glamourous while babywearing. Gwen, I heart you so much, but the reality is, this is what the rest of us look like while babywearing (and I think we are pretty beautiful too):
My Attempt
Unkempt hair, no makeup, and a seven-year-old pair of Versace sunglasses I paid for in installments. Boom, that's my style right there.
Attempt #2: Bedroom Couture Like Alyssa Milano
Alyssa Milano
Oh Alyssa, I love you for so many reasons, particularly your spot-on advocacy of normalizing breastfeeding. How I wish I looked like this laying with my girl in bed, but sadly, there has never been a moment even closely resembling yours.
My Attempt
Well, nothing fancy going on here! All things considered, this is even nicer than I normally look. I happened to be wearing a sundress, but wearing a dress is literally a once or twice a year occasion.
I can't imagine living under that pressure everyday and trying to be a good woman, a good mom, and a good partner — and I sure as hell can't imagine putting my toddler through it, either.
Attempt #3: The Baby Bump Selfie A La Kim Kardashian
You can't really hate on Kim K. Sure, maybe you don't love her maternity style, but the fact that she has the confidence to rock any of them while pregnant is amazing to me. And I love the fact that she's redefined her then-maternity style to best suit her needs. Even if it's not for me, I still love that she owns her look.
My Attempt
See the stretch of my sweater? Yeah, that's not by design. It's due to the fact I'm eight months pregnant. I don't look glamourous, because I am not glamorous. I'm hiding in the bathroom. Kim may feel glam in her skin-tight midi dresses, and that's great for her. I'm perfectly content in my Old Navy maternity jeans and Target-brand maternity shirt. Honestly, no one tells you how hard it is to even get your pants on when you're this pregnant.
Attempt #4: J.Lo's Stunning Swimsuit Shoot
Jennifer Lopez
Jennifer Lopez is a mom of twins, people; twins! I think it's safe to say she hasn't just gotten back to her pre-baby days — she's blown them completely out of the water. And she looks phenomenal. I'm pretty sure she looks better now than she did before she even had kids. How is this even possible?
Taking these photos has taught me about the pressure for everything to look perfect — both in their world and in ours.
My Attempt
There it is, ladies and gentlemen, my bathing suit. Like J.Lo, I'm wearing a one-piece bathing suit, only I picked up mine at Ross for $10, along with one of those nice kaftan overtops that I feel totally comfortable and fabulous in. I, of course, am also wearing a hat, not to be chic, but to protect my uber white skin from burning.
Attempt #5: Fitness Fresh With Jessica Alba
Jessica Alba
This Honest mom of two is well put together, even when she is getting her Om on! It doesn't even look like she sweats ... I wonder if that's a celebrity thing?
My Attempt
I like to consider myself a rebel, in that I don't need cute stretchy gym clothes to get my yoga on. I mean, I guess I like it sometimes, and I suppose it is easier to do certain things in spandex, but I prefer to march to the beat of my own drum. Also, I just don't have time for that. Going to the gym as a non-celeb usually requires a lot of planning, and also creativity. Sometimes the park is my gym, or the living room floor, or my bed ...
What I Learned
After all was said and done, I kinda take back most of what I said before. I have to give celebs with kids (and honestly, even celebs without kids) the shoutout they deserve. I don't think I could maintain an image like theirs while also taking care of my family. I know they have help, but there's absolutely no denying that they wake up after a long night with a sick kid, or multiple feedings — just like I do — and are immediately ready to throw in the towel on the day and start over again tomorrow. But taking these photos has taught me about the pressure for everything to look perfect — both in their world and in ours. And after trying to recreate their photos, I realized they're not doing it to intimidate other moms; they're doing it uphold their images.
Honestly, I am so glad I don't have to worry about whether I'm getting lots of likes or how perfectly Photoshopped I look. And I'm even more delighted that I don't have to worry about anyone saying anything about my child. I can't imagine living under that pressure everyday and trying to be a good woman, a good mom, and a good partner — and I sure as hell can't imagine putting my toddler through it, either. I get to be me, and I get to share whatever version of myself I feel like sharing without worrying that our picture is going to end up on the cover of US Weekly with the caption that reads, "She's let herself go!"
There are no paparazzi waiting to catch me in bad form; no one chasing behind my car to catch a glimpse of my just-birthed baby. Instead, thousands, if not millions, of women stand at my side in solidarity because we know being a mom is a dirty, dirty job, and we've been given the luxury, a luxury that our celeb-mom counterparts don't have, to fail, to flourish, or to have a really bad f*cking day and move on.
So yeah, their Instagrams are flawless. But everyone knows there's more than what meets the eye.