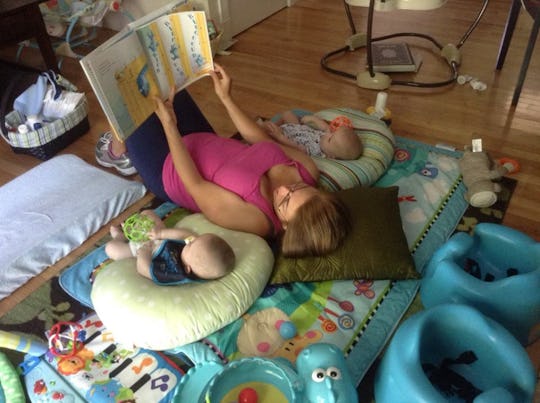 Megan Zander/Romper
I Reread Children's Books As An Adult & This Is What Happened
I read to my toddlers constantly, but if I'm being honest, most of our reading time is spent with them paying rapt attention and me reciting books from memory while I peek at the clock to see how much longer there is until nap time. We have a wide collection of books, but they seem to prefer reading the same few over and over again. Currently Where the Wild Things Are, Winnie the Pooh, Goodnight Moon, Ella Sarah Gets Dressed, Love You Forever, The Pout-Pout Fish and the Big, Big Dark and the Cat in the Hat are their favorites.
I love the puns in Winnie the Pooh, and the illustrations in the Pout-Pout Fish books are designed to give parents a chuckle (it works), but as for the rest of their must-reads, the simple stories and repetitive text bore me. The other day when they yet again refused to change up their reading list, I started to wonder why my boys' favorites books resonated with them so deeply. Were there important life lessons hidden among the illustrations I was missing, or did they just like the drawings?
The Experiment
I'm an avid reader. I enjoy all kinds of books: thrillers, horror, fantasy, true crime, YA dystopian books, and yes, even trilogies about teen vampires. Rather than my usual nighttime reading material, I grabbed one of the kids' books to take to bed with me instead, hoping to see why these books were their favorites.
I gave it a week, swapped books with my sons (they were, thankfully, none the wiser), and tried to glean whatever I could from these paper-bound havens of little kid love.
Here's what I learned from reading children's books for a week.
Book #1: Where The Wild Things Are
The gist: If you've never read it, or even if it's been awhile since you have, a little boy named Max makes a a huge mess, and as a result he's sent to bed without supper. His bedroom becomes an exotic land and he sails to an island inhabited by the Wild Things. Max intimidates the beasts and becomes their king, but ultimately decides to return to his home, where a hot dinner awaits him.
What I learned: This book is light on text, with only a little more than 300 words. I think my children are drawn to the illustrations and the ideas of having giant monster buddies.
Where the Wild Things are is beloved by adults and kids alike. (They even made a movie out of it.) I was a little afraid of the monsters as a child, but my boys aren't afraid at all and request it constantly. Reading it over — without the ticking nap-time clock — gave me the chance to really dive in to its meaning. As much as I love my life as a SAHM, there are times when I wonder what adventures I'm missing out on while staying home. I can relate to Max because I have moments where I daydream of a totally different life, one where I traveled the world before settling down, or didn't leave my career to raise my kids. But just like Max, when I really think about it, the place that makes me happiest is here at home with my family.
Book #2: Ella Sarah Gets Dressed
The gist: A little girl is getting dressed and wants to wear her pink polka-dot pants, her dress with the orange and green flowers, her purple and blue striped socks, and her yellow shoes and her red hat. Her family members take turns trying to convince her to pick a different outfit, but Ella Sarah refuses to change her mind, and in the end it's clear her friends appreciate her unique sense of style.
What I learned: Simple text and fun patterns are probably what draw my kids to this book, but I love the message of being true to yourself and asserting your independence regardless of what others may think.
My job as a parenting writer means I'm constantly reading content about moms and if you believe what you read online, when it comes to fashion there seem to be too clear camps: moms that "give up" and dress in frumpy or unflattering clothing, and moms that "have it all together" and wear heels and a bold lip every day. I don't think that's true, but I worry that my refusal to dress up is impacting my chances at making friends.
I'm not a fan of bold patterns, buttons, or shoes that I can't run in. Most days I wear clothes I can workout in once the kids go down for a nap. Although my kids are 3, I still haven't made any connections with other local moms at story time or at the park, and I thought by now I'd have at least 1 or 2 friends with kids of their own to spend time with. Sometimes I wonder if I would have better luck making friends by wearing outfits that are more put together and stylish in order to fit in with other women my age.
This book is a gentle reminder to me that it's absolutely OK to wear yoga pants everyday, even on the days I don't actually get my downward dog on. Dressing to please myself before others is always in fashion. And besides, if someone doesn't want to talk to me because I'm not wearing jeans, then that's on them.
Book #3: Winnie The Pooh
The gist: A bear and his animal friends have adventures in The Hundred Acre Woods with their boy buddy, Christopher Robin.
What I learned: I've loved Pooh since I was a little girl, but I never sat down and read the original storybook until this experiment came along. Not only is the language filled with amusing turns of phrase, it's remarkably relevant for a book first written in 1926.
Pooh may be a bear of very little brain, but he is body positive AF. He is completely unabashed about his love of honey and condensed milk and appreciates his body as is with zero hangups. He doesn't work out to get thinner, he performs "Stoutness Exercises", the sole purpose of which is to allow him to work up an appetite to eat. While I try not to use food as a reward for healthy movement, Pooh is an inspiration to remember that exercise is something I should do because I like how it makes me feel, not just because of how it makes me look.
My relationship with food has always been complicated and I struggle with feeling guilty when I eat "bad" or unhealthy goods. The next time I'm feeling guilty for noshing on that delicious ice cream, I'm going to remember Pooh. Even when he's concerned with other's opinions, he puts his own happiness first by making the best tasting foods his priority. There's a scene where Pooh is eating with Rabbit that I especially love:
When Rabbit said, 'Honey or condensed milk with your bread?' he was so excited that he said, 'Both.'
I'm thinking of printing this out and putting it next to the jar of Nutella.
My kids don't care much for Eeyore, and I didn't either before reading this book. I was struck by the fact that even though Eeyore is mostly sad and gloomy, his friends don't ever give up on him. They always invite him along and while they try to cheer him up, they don't try to change who he is. Depression is something many people struggle with, and seeing how Eeyore is embraced by his friends for being himself on good and bad days alike makes this book a great blueprint for kids in learning how to be sensitive and inclusive of those with mental health issues.
At one point in the book Eeyore says, "Thank you, Pooh. You're a real friend. Not Like Some[sic]." This line stuck with me because even if someone has a disability or mental health issue, that doesn't make them blind to how they are being treated by others. I hope that reading this story where Eeyore is included instead of excluded will help my kids be sensitive to other's feelings.
Book #4: Goodnight Moon
The gist: It's pretty simple: A bunny says goodnight to all the objects in his room before going to bed.
What I learned: OK. I personally don't care if it's considered a classic children's book, this story is nightmare fuel, pure and simple. Not only does it inexplicably jump from color illustrations to black and white and back again, it features chilling lines such as, "Good night no body," and, "Good night air." If the thought of your child talking to ghosts or suffocating isn't enough to give you insomnia for days, there's also a creepy old woman rocking in the corner of the room whispering ,"Hushhhhhh." But feel free to close your eyes kids, she probably won't suck your soul out through your mouth while you sleep.
Perhaps I was particularly keyed up the night I read this one, but I barely slept and when I did, I had vivid dreams of my family dying in a plane crash. I feel awful that I've read this book to my kids so many times without actually stopping to comprehend the text. The next time the boys are in a destructive mood I may just hand them this book and pretend not to notice when they rip it apart.
Book #5: The Pout-Pout Fish In The Big, Big Dark
The gist: Mr. Fish wants to help his friend Ms. Clam find her missing pearl, but even though he's fast as a sailfish, strong as a shark, and smart as a dolphin, he's afraid of the dark. Lucky for him, Ms. Shimmer reminds him that friends help friends.
What I learned: With fun rhymes and jokes hidden within the pictures, all the Pout-Pout Fish books are fun to have around. I love this one in particular though, and for several reasons. It's refreshing to see a book where the male lead admits that he has emotions and needs help and it's awesome that a female character comes to the rescue. Having looked a little closer at this story line, I'm now so happy that it's one of my boys' favorites. I want them to grow up knowing that it's OK to show emotions and allow others to help you regardless of your gender identity or society's gender norm. I don't want to grow up thinking that "real men don't cry," and this book helps reaffirm the emotionally open way I parent.
Beyond the gender role reversal, this book is a good reminder that there's no shame in asking for help when I need it. I have a tendency to want to handle everything myself, to be the Supermom who's got everything under control. But like the Pout-Pout fish, no matter how strong I am, it's OK to have weaknesses. I need to be better about letting others help me when they want to and not seeing that as a failing on my part.
Book #6: Love You Forever
The gist: A mom sings about how much she loves her son while he sleeps through all the stages of his life, even crawling into his house when he's an adult to serenade him. At the end of the book, her adult son sings the lullaby back to his elderly and presumably dying mother. Warning: Have tissues handy.
What I learned: I'm not a sappy person, and when my sons were infants I though the mom in this book was hanging out with Norman Bates' mom too much at book club. Now that my little boys aren't so little anymore, I get it. They're reaching the point where they're too big to snuggle comfortably in my lap even though I still have the instinct to gather them close to me and protect them at all costs.
They may grow to be taller than me one day, and they won't always smell delightfully of peanut butter and baby shampoo, but time isn't going to change how I much I love my kids. I can totally see myself getting a creepy mom van and ladder to look in on them sleeping once they get old enough to move out, and I don't care if that makes me creepy. Who's with me? We ride at dusk.
Book #7: The Cat in the Hat
The gist: A cat shows up on a rainy day and makes a giant mess of the house, but manages to clean up and make his exit before the kids' mother gets home.
What I learned: My kids love this book because of the rhyming words, and I like it because I can recite it from memory without looking at the pages. When I pursued the book solo, I saw how huge of a mess the Cat made, and I totally side with the fish: his chaos was not cool. But true to his word, the Cat manages to get everything cleaned up and put away, no harm done.
Thanks to my anxiety, I have a habit of saying no to new experiences for my kids because I tend to envision the worst-case scenario might happen. I focus on everything that could go wrong instead of all the things that could go right. Although it's a kids' book, The Cat in the Hat made me realize that new experiences will not automatically be a disaster.
At the height of the Cat's mayhem, there's broken stuff all over the house, but it all manages to be cleaned up and fixed, the broken things repaired or forgotten. It made me realize that as long as my family won't be in physical danger, there really isn't a good reason not to try something new. Sure, binkies could go missing, they might miss a nap, or we may have to buy a clean shirt on the fly, but like the knick-knacks in the book, these are small things that don't really matter. I used my newfound courage to plan a last-minute trip to take my kids to NYC for the first time and it turned out to be a fantastic day.
I'm going to try and continue to be positive about new experiences instead of assuming the worst.
Are Children's Books As Good When Adults Read Them?
Toddler books are obviously shorter and generally more positive than adult books (at least the ones I read), but just because their themes are simplistic doesn't mean they're not loaded with great lessons. There's a surprising amount of wisdom hidden among the pictures, and it was a nice change of pace to read something short and simple as opposed to an adult chapter book.
Leafing through my children's favorite books taught me a ton about myself. Where the Wild Things Are showed me that feeling restless sometimes in my role as a mom doesn't make me a bad person. Winnie the Pooh reminded me to be kind to others and to love my body regardless of how much I weigh. And that silly Cat in the Hat helped settle some of my anxieties around trying new things with my kids.
I don't think I'll be fighting with kids at the library over the last copy of The Very Hungry Caterpillar, but I plan to pay attention during story time from now on, just in case a cartoon animal is trying to tell me something important.
Images: Giphy (7), Courtesy of Megan Zander (1)