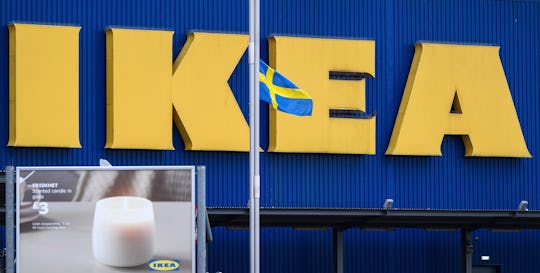 Leon Neal/Getty Images News/Getty Images
You're Invited To IKEA's Early Black Friday Event & Yes, Meatballs Are On Sale
For some of us, Black Friday is a holiday in and of itself. It requires vast amounts of planning, budgeting, and just the right amount of hard liquor to make dealing with the intense human interaction bearable. For IKEA, it's apparently a day of celebration, decorating, and workshops, on top of great deals. In fact, this year Black Friday at IKEA starts two weeks early, so get out your fat pants, because you know you're going to want a serving (or four) of meatballs while you shop.
If you've never been to one, IKEA's holiday events are usually pretty chill. There are a few small activities, a lot of gravy, and a ton of products that Americans really cannot pronounce without great difficulty. This year's offering, called "Make Room for Celebration," will be held at IKEA locations nationwide on Saturday, November 10, and includes some pretty amazing discounts (which is reason to celebrate for sure). Doors open early at 9:30 a.m., and don't be late: The first 100 IKEA Family members to arrive will be gifted with a free 20-piece Fornuft flatware kit, as Domino reported. Workshops and tastings will be held until 3 p.m. local time, and customers will also get a $25 off any in-store purchase of $150 or more. But IKEA Family members get even more perks. A contest will run at the kiosks in the store where every time you swipe your Family member card, you're entered to win a $100 gift card. (On top of all the savings throughout the store, that $100 could go pretty far towards decking your halls this holiday season.)
Family members also get to take advantage of such deals as 20 percent off of Henriksdal chairs, if you're in need of a stylish place to sit.
Or if you need a place to sleep off all that turkey, select sofa beds will also be reduced by 20 percent. As an avowed lover of IKEA sofas, I will tell you, they are sturdier than you're thinking.
As a matter of fact, I am writing this article while sitting on my beloved black velvet IKEA sofa. It's one of my prized possessions. I have rambunctious children, and they have many rambunctious friends, and it's still in great condition. They come in so many color and fabric combinations, and many of them are machine washable, (which, as parents, we know is key).
There's also going to be a winter table setting workshop, and a holiday entertaining workshop, so that you can put all that flatware and dining chairs to good use. Many people pass right by the awesome cookware and bakeware that IKEA sells, and that's a mistake. It's great stuff, inexpensive, and honestly? It's just really cute. At the Ikea sale, they're offering 20 percent off select bakeware and dinnerware. That means you could potentially have an almost entirely new holiday dining experience this year. Be sure to snag their silicone baking mat, which, for 10 bucks, is a real workhorse in the kitchen.
And I saved the best for last. Meatballs, readers. Meatballs. Those most-beloved of IKEA products. During the sale, you'll be able to get three bags of the iconic frozen Swedish meatballs for $20. Normally $9 per bag, this is a hustle you want in on. And it's not just the beef balls. Oh no, all the balls are on sale. Beef, chicken, and veggie balls to delight your taste buds and make super quick meals when you simply cannot do anything else. And do pick up some of their frozen potatoes au gratin and packets of gravy to complete your "I can't even," weeknight meal. You truly can't go wrong in their grocery section. (I even like the tubed fish product, I swear.)
It should be noted, sadly, that you can't purchase the meatballs online. Which makes sense, because, unless you live super close to an IKEA, those frozen balls would be mush by the time they made it to your house. But that's okay... you've clearly got lots of shopping to do at IKEA anyway.
OK, there's a high likelihood that whatever you purchase at Black Friday at IKEA might frustrate you utterly, but let's be honest, you weren't going to buy it anywhere else. And this year, there are some great deals to cause the unavoidable arguments between yourself and whomever you choose to help assemble your stuff.