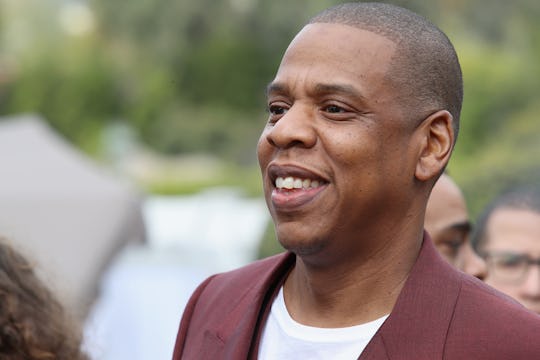 Ari Perilstein/Getty Images Entertainment/Getty Images
'4:44' Illuminati Theories Show JAY-Z Is Playing Us
Taking some cues from his wife, Beyoncé, the goddess of surprise albums, JAY-Z has shrouded himself in an air of mystery lately. There's the rumored birth of the couple's twins earlier this month, which neither has confirmed. Then there's the announcement of his upcoming album and its undefined accompanying visual component, both titled (inexplicably) 4:44, that was heavy on the hype and pretty darn light on the concrete information. Pair that with the pervasive theory that the mega couple is part of an elite cult called the Illuminati, and it's easy to speculate about them all day long — especially when they're bringing new projects (or humans) into the world. So, the time is obviously nigh to parse through Illuminati theories about 4:44 ahead of its highly anticipated June 30 release.
Fans first learned for sure that new JAY jams were on the way this month after a mysterious ad campaign. Then an ad debuted during the NBA finals, reveling that the album would feature a film portion that would star Oscar winners Mahershala Ali and Lupita Nyong'o. But the conspiracy theory that JAY and Bey are part of the Illuminati, a collection of powerful people who (clandestinely) run the world, are as old as time. I mean, just look at how some people interpreted Bey's epic Instagram pregnancy announcement back in February. So it's only to be expected that the looming drop of JAY-Z's 14th studio album (and the visual album, or film, or whatever it's going to be) would get similar treatment. After all, we even have a trailer featuring a clip from the song "Adnis," which features Ali as a boxer.
"Adnis" is reportedly the name of the rapper's late father, so it seems as though 4:44 may get quite personal. But there's all kinds of other possible meanings behind the 4:44 title that range from the personal to the political — as well as to the downright conspiratorial. Ahem, Illuminati. First, though, Newsweek reported that "44" could be a tribute to President Obama, who's a friend of the Knowles-Carters as well as the 44th president of the United States. So, this could mean "For 44," or "For Barack Obama." Newsweek also posited that the project may be dedicated to the Black Lives Matter movement.
Also, the number four carries a deep significance for Beyoncé and JAY-Z. They both have birthdays on the fourth, with his in December and hers in September. They were married on April 4, 2008, meaning that their wedding anniversary is 4/4. They even have matching "IV" tattoos on their ring fibers, a nod to the Roman numeral for "4." And, speaking of Roman numerals, their 5-year-old daughter Blue's middle name, Ivy, is believed to be derived from that symbol as well.
Of course, if you really want to get into the conspiracy theorist weeds, Blue's entire name could just be an Illuminati-centric acronym, like so: Born Living Under Evil Illuminati's Very Youngest.
In a video about 4:44, YouTuber PaperboyPrince makes the case that JAY-Z purposely infuses Illuminati references into his music and videos because he knows it will cause people to listen to and watch them over and over. He reportedly incorporated Illuminati imagery into the 2009 single "On to the Next One," for example, before denying his involvement with the Illuminati in the Rick Ross track "Free Mason" in 2010. By naming his new project 4:44, PaperboyPrince suggests, JAY is attempting to trade in the number 666, which is commonly associated with the Illuminati, for another numeric trilogy with a gentler connotation.
Whatever the case may be, the hype is working: Fans are anxious to watch and listen to 4:44 ASAP.