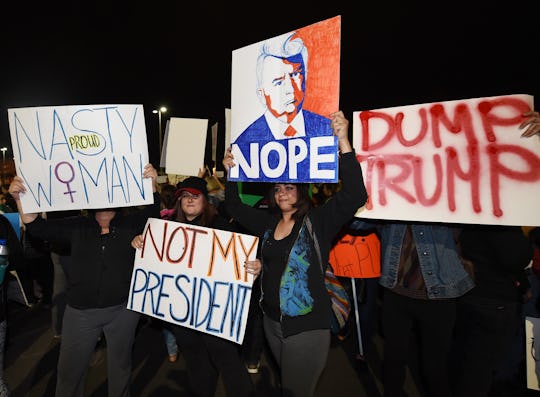 Ethan Miller/Getty Images News/Getty Images
Inauguration Petitions To Make Yourself Heard
The countdown is on: It's only 10 days until the presidential inauguration. That means former reality TV host and WWE Hall of Famer Donald J. Trump — a man who, on tape, joked about grabbing a woman's genitals, mocked the disabled, and said he thought he could shoot somebody in the middle of 5th Avenue without losing voters — is going to be sworn in as the 45th President of the United States on Jan. 20. It's happening. There's no going back now, and there's not really anything your average American can do to stop the inevitable. With little else to change this improbable moment in American history, there is an abundance of inauguration petitions to sign out there.
While these petitions may not actually achieve many tangible results — and some would call these online petitions slacktivism at its finest — there's something to be said for the small act of signing a petition and both showing and feeling solidarity with others. Speaking to The Washington Post, clinical psychologist Thomas Plante spoke of the psychology at work when you sign a petition and what it represents:
We like having control. People feel they need to get control somewhere, whether that's wearing a safety pin, or [signing] an online petition or posting things on Facebook.
With more than 200 online petitions protesting Trump's inauguration on the popular petition website Change.org alone, here's a quick rundown of what people are protesting.