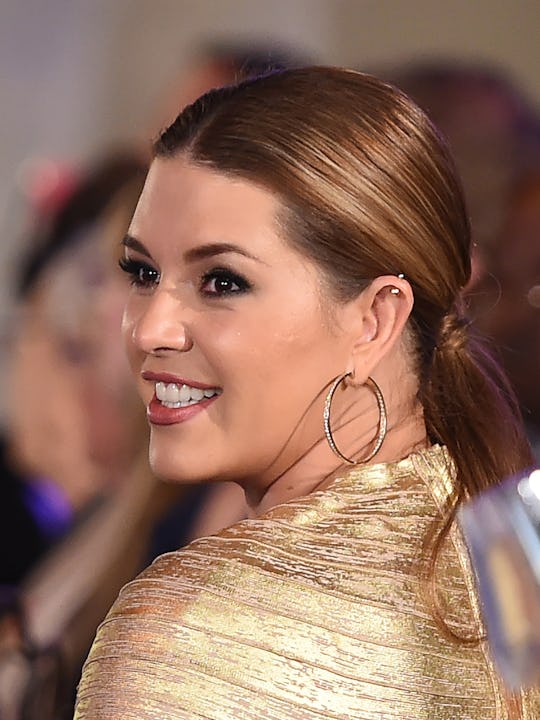 ROBYN BECK/AFP/Getty Images
Is Alicia Machado Married? She's Not Taking Anyone's Public Shaming Lightly
At the first presidential debate Monday, Democratic candidate Hillary Clinton confronted her opponent with accusations that he shamed and humiliated the 1996 winner of the Miss Universe pageant, which he owned at the time, for gaining weight some 20 years ago. Since then, Donald Trump has been on the offensive, lobbing further attacks against Alicia Machado about her personal life and her past, most notably making the oh-so-presidential move of encouraging his Twitter followers to watch her (nonexistent) sex tape. While Trump has performed exactly the way the strategic minds behind the Clinton campaign wanted him to — with rantings they hope will portray him as temperamentally unfit to voters — the media storm has generated intense interest in the onetime beauty queen, causing Americans to ask everything from the strangely controversial, like whether she was really involved in an alleged attempted murder, to the innocent, like whether Alicia Machado is currently married.
The answer to the first question: Although Machado was accused of driving the getaway car for her then-boyfriend in her native Venezuela after he shot a man in 1997, the charges were soon dropped due to lack of evidence. Machado, now a United States citizen and influential Clinton supporter, responded to the renewed scrutiny of that incident by telling CNN's Anderson Cooper that the accusations against her at that time were firmly in her past.
The insinuation, of course, is that she's moved on, while Trump has not. She's 39 now, and having moved on means she's now the mother of an 8-year-old daughter.
But because Machado is not married, there is some speculation about who the child's father is. In 2008, before she had the baby, Machado told People en Español that he was 48-year-old Mexican businessman, but declined to provide his name. "I'm happy," she said at the time. "I'm in a stable relationship ... I love my boyfriend because he is a noble man, sentimental, and a giving person."
She added that even though her baby's father had suggested that the two get married, she wasn't quite there yet:
Not now, because I don't want to do it just for my child. [We'll marry] one day. He told me, "When the child can carry the train of the dress." I've lived alone my whole life. I've never lived with anyone; I've never lived with a significant other. I'm afraid of the routine. I'm doing well. I'm enjoying the pregnancy. I've got all of the support and love of my [boyfriend].
Multiple news outlets in Mexico claimed in 2010 that the father of the baby was actually Jose Gerardo "El Indio" Alvarez, a Mexican drug lord who was captured and incarcerated that year, according to conservative media site The Daily Caller. Evidence to support that claim stems from a 2008 testimony from a protected witness — who was murdered the next year — that he had seen top members of the cartel with which Alvarez was associated. Machado, for her part, has consistently denied these claims, stating that the Mexican government would release documents that would prove that her daughter's father was a Mexican business magnate named Rafael Hernandez Linares. So far, that has not happened.
Despite the relentless examination of Machado's personal life once she joined Clinton in the national spotlight, she is not really the point. The point is Trump's reaction to her. From reportedly referring to her as "Miss Piggy" and "Miss Housekeeping" and forcing her to work out in front of reporters two decades ago, to readily taking Clinton's bait and embarking on an unhinged middle-of-the-night tweet storm last week, he's shown that he has very little, if any, respect for women, as well as negligible levels of impulse-control at best. Machado's personal life may be on display, but for what it's worth, it seems a good portion of the country is ready to move on.