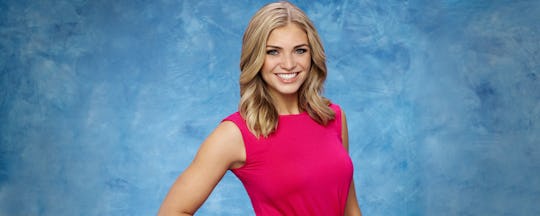 Is 'Bachelor's Olivia A Bigger Villain Than Lace? It Seems The News Caster Might Ruffle Feathers On Ben Higgins' Season
During The Bachelor's premiere, it seemed there was one contestant in particular that attracted the wrath of the other Bachelorettes. And that, undeniably, was Lace, the woman who tried to steal Ben Higgins' time as much as the cameras' time. But, it seems, there might be someone in this season's cast that could be pegged as the season's "mean girl" — the recipient of Ben's first impression rose, Olivia Caridi could be The Bachelor's new villain.
Hard to believe after the premiere — after all, Olivia was nothing but kind and gracious, something that made her getting that first impression rose all the more obvious (and all the less frustrating for the other women. Can you imagine if it went to Lace following her antics?). But it seems the series' villain only attracts the ire of viewers should that villain actually be a contender, and, based on Ben's reaction to Lace during the premiere, it's doubtful the Cecily Strong-esque contestant will be one. As he wrote on his blog on People:
When Lace pulled me aside, I was floored honestly. After all that had gone on that night (and I hadn't even seen the half of it!) was she really questioning my intentions after I had just sent seven incredible women home?!
Clearly, however, as unimpressed he was with Lace, Ben was clearly floored by Olivia, which puts the former newscaster in a difficult place. Because the only way she can avoid being a target after being Ben's first chosen one is to be on her best behavior. And, based on clips for the season ahead, well, she's not quite on her best behavior, is she? (Next week, she appears to make fun of another contestants' smell.)
Add to that the fact that many fans think that Olivia is on The Bachelor to raise her personal TV profile (just listen to Bustle's new Bachelor podcast, Will You Accept This Podcast?), and the fact that Chris Harrison himself worries that Olivia isn't "here for the right reasons," and you have a woman who is primed to become Season 20's No. 1 villain. It doesn't help that behind-the-scenes chatter indicate that Olivia presents herself differently to the Bachelor cast as she does to Ben. (And rumors that she was attached to someone else when she applied to the show.) Shades of Courtney Robertson much?
All that said, it's important to keep in mind this is reality TV. Even though "real" is in the title, we know all to well that it's easy to create a storyline that doesn't quite mimic the truth 100 percent. And, when thrown into a situation when you're forced to compete with several other women for the attentions of a possible partner, it's inevitable that some of your best assets might not shine. As she notes herself on her Twitter.
And, should Olivia's best assets shine on in future TV shows, should she decide to use The Bachelor as a platform? Hey, we should all be as shrewd, right?
Image: ABC