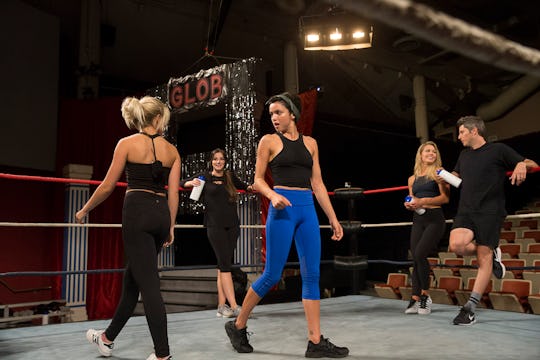 Paul Hebert/ABC
Bekah's Love Life After 'The Bachelor' Could Hint At Her Future With Arie
There have been a handful of memorable women already on Season 22 of The Bachelor, but Bekah Martinez made a particularly lasting impression due to her age. At 22 years old, Bekah was revealed to the be the youngest contestant of the season, thus making Bachelor Arie Luyendyk Jr. 14 years her senior. That's a significant age difference, which could end up getting in the way of their relationship. So, is Bekah single after The Bachelor? The contestant is ready for a serious relationship. At least, that's how it seems when it comes to The Bachelor.
Despite her age being a bit younger than your typical Bachelor contestant, Bekah has proven herself to be more than mature enough to handle the kind of life-long relationship that comes with winning the show at the end of the season. It looks like she's currently unattached now that filming is over — unless, of course, she's engaged to Arie and no one is supposed to know about it just yet. Bekah, who just turned 23, seems to have returned to her life after filming ended and has been active outdoors with friends again and seems to have had a good time on the show. At least, that's the impression she's giving in her tweets during each new episode. So regardless if she ends up getting that final rose from Arie or not, it doesn't seem as though she regrets the experience in any way.
Although Arie has managed to make a connection with other women this season, it's hard to deny the chemistry he's had with Bekah. Even after he found out her age, Arie opted to keep Bekah around, further proving that they could be a great match despite the age gap. When you take out all of Bekah and Arie's make-out sessions and passionate kisses, there's still a very real connection there that earned her date roses and memorable conversations that actually had Bekah, the younger of the two, coming out on top with the reasonable words of wisdom regarding their future together.
In a way, it's a good thing that Bekah appears to be single after The Bachelor since it could very well indicate that she's still with Arie now and they have to keep their engagement on the down low. By the same token, even if she has started dating someone who isn't Arie after filming wrapped, it's not like she could actually post of photos on social media of the two of them together. That would be way too spoiler-y since we have yet to see her get eliminated.
Bekah also has a lot on her plate right now, what with being on a missing persons list and all, so she may not have time for dating at the moment. It's not as serious as it sounds, but according to People, the story is that Bekah's mom filed a missing persons report on The Bachelor contestant when she couldn't get ahold of her for a few days. Bekah was able to get in contact with her mom shortly after, but since Bekah herself never followed up on the case, it was left open until someone on Facebook recognized her photo posted by a local publication near her hometown.
Suffice to say, she's definitely had some excitement since filming of The Bachelor Season 22 ended. That does not, however, include any new romance it seems. But that only means that Bekah either made it all the way to the end and accepted a marriage proposal from Arie, or she's going to be a potential contender for Bachelor in Paradise Season 5. Either way, I'm honestly all here for it.
Check out Romper's new video series, Romper's Doula Diaries:
Watch full episodes of Romper's Doula Diaries on Facebook Watch.