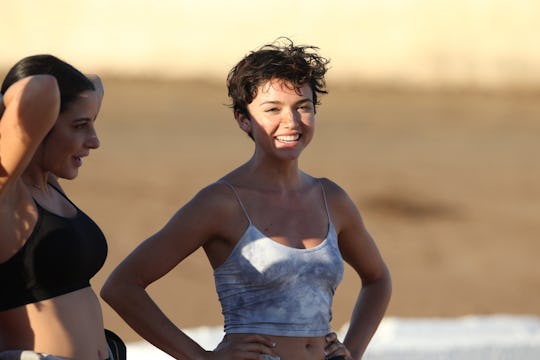 ABC
Bekah Has Been Busy After 'The Bachelor,' & Here's What She's Been Up To
When you go on The Bachelor, you have to expect some kind of fame to come from the reality TV stint, even if you don't make it to the end of the season. That happened pretty early on for Bekah Martinez especially, who already had the internet buzzing about her age (she's 22) and whether or not Bachelor Arie Luyendyk Jr. would find out about that. But now you have to wonder, what is Bekah from The Bachelor doing now?
Since filming ended for the Los Angeles nanny and apparent part-time model, she's been plenty active on social media and has had a pretty good sense of humor about the whole Bachelor thing overall. It's been an intense season already, with surprise eliminations and plenty of connections so far, but Bekah's relationship with Arie has managed to remain strong throughout all of the inevitable drama that's happened so far.
And as to be expected, Bekah's made some friends from filming The Bachelor, as she's posted photos on Instagram of herself along with fellow contestant Kendall Long. But the biggest surprise to come from Bekah's time on The Bachelor was probably the fact that her appearance helped solve a missing persons case — her own.
As much as it sounds like the plot to a Lifetime movie, Bekah was legitimately on a missing persons list for a portion of the time she was filming The Bachelor. According to People.com, Bekah's mom reported her missing on November 18 after not hearing from her for several days. Believing Bekah to be working on a nearby marihuana farm, she called the police out of concern for her daughter and the case was opened. Not long after, Bekah contacted her mother to assure her that she was alive and well, but neither had updated the local police at that time. Then, on December 12, a deputy from the Humboldt County Sheriff's Office contacted Bekah's mom for an update and when she informed him that Bekah had reached out, the deputy asked that Bekah contact him directly. Since she hadn't at that time, her face was added to 34 others when the North Coast Journal posted an article on Facebook on February 1 asking if anyone had seen any of the missing persons on the list.
With Bekah among them, Bachelor fans immediately recognized her and she was able to confirm her identity and close that particular case. I know, not terribly harrowing, but it's been a big thing in Bekah's hometown and she's had a sense of humor about the whole incident. It's still not clear if she really was working on a marijuana farm or just chose not to tell her mom about appearing on The Bachelor before the season premiered, but at the very least, it proves that sharing missing persons information on social media does help authorities cast a wider net.
While the topic of missing persons is no laughing matter by any means and Bekah's case is definitely one that resulted in a happy ending for her family, it's still a story that's almost hard to believe, in that it happened to one of the more notable Bachelor contestants this season and it has some fans coming up with theories as to how it happened. When Arie appeared on Live with Kelly and Ryan on Monday, Kelly Ripa tried out her own theory on the Bachelor that could explain why there was such a mystery of Bekah's whereabouts.
"Bekah is the girl you choose," Ripa insisted. "Wanna know why I have this theory? Because she went into lockdown… The dealio is when you choose a bachelorette, she has to go underground. She went so deep underground her mom thought she was a missing person!"
She's not entirely wrong, since it is true that the Bachelor and his chosen contestant aren't to be seen together in public once filming has ended and that everything is supposed to be kept on the hush hush, but of course Arie was mum about Bekah being the winner of The Bachelor. On the topic of Bekah being on a missing persons list, he simply said, "I think the PSA for that is: Call your parents."
But in addition to inadvertently solving her own missing persons case, Bekah seems like she enjoyed her time on The Bachelor regardless of the outcome of the season and if she isn't the one Arie picks in the end, I fully expect to see her stealing the show on Bachelor in Paradise this summer.
Check out Romper's new video series, Romper's Doula Diaries:
Watch full episodes of Romper's Doula Diaries on Facebook Watch.