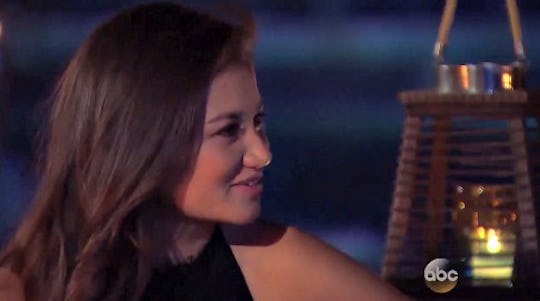 ABC
Is Caila The Next Bachelorette?' Sources Say She'll Be In Ben Higgins Shoes Next
Bachelor fans, if you were feeling sorry for Caila Quinn after Ben broke her giddy little heart, do not fear. According to reports, Caila is the next Bachelorette so she will have another chance to look for love. And be in charge this time around. It's not official yet, but Us Weekly has sources who say they spotted Quinn filming her intro segment for the show in her hometown,Hudson, Ohio on Friday afternoon. ABC hasn't confirmed the news or even announced an official premiere date for the show but social media is already convinced that she'll be the leading lady this summer.
There are some very strong opinions circulating around the Internet about ABC's decision, but Caila as Bachelorette makes perfect sense. The 24-year old was just hanging onto Ben to give her enough screen time to help Bachelor Nation get acquainted with her. More than that, the way that she left the show — in tears, after declaring her love for Ben, only to have him say he just didn't feel the same spark — means that she is dedicated to the Bachelorette mission. You can't be skeptical or aloof about true love if if you're going to head up this competition.
Caila's just the right amount of heartbroken and likable to make for an interesting Bachelorette season. Or is she? Upon hearing that Caila might be the next Bachelorette, fans were torn about the (still unconfirmed, everyone, jeez) decision.
One distressed fan tweeted that Bachelor Nation "DOES NOT WANT CAILA!!! It's like they don't listen to their fans." Some people were really hoping that JoJo would eventually be the next Bachelorette, which means everyone has already resigned themselves to Lauren Bushnell being the fiancee´Ben Higgins was talking about in interviews this week. So many feels all around for Bachelor Nation.
Some viewers are actually super happy that Caila might get another chance.
Either way, Caila seems to be ready for her next adventure. During the taping for the Women Tell All Special which airs on Monday, March 7, Caila told Us Weekly that she doesn't "have any feelings of resentment and no regrets as well." But she's very proud that she hopped out of the car and got one last conversation with Ben before she left the show. She told ABC News, "I distinctly remember being put in the car the first time and crying to myself, saying, 'That cannot be the end. I refuse for that to be the way I say goodbye to him,' because it felt very cold."
She will have more than enough chances to heat things up this summer if the rumors are true. And if Reality Steve has pics, you know it's real. Everyone play nice — we're stuck with whoever they choose anyway.