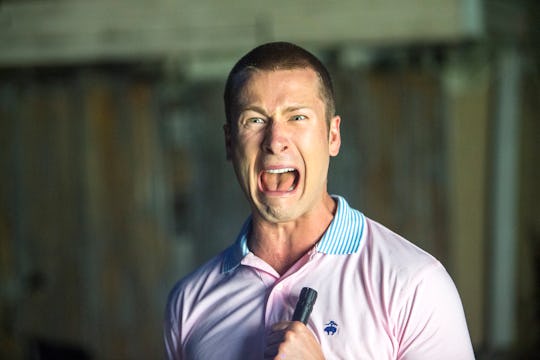 FOX
Is Chad Really Dead On 'Scream Queens'? We May Have Not Seen The Last Of Him
Before we were even able to enjoy the unapologetic douchiness of Chad Radwell on Scream Queens this season, he was taken from us. It was the sort of death reveal, backed by 80's music and during a wedding, that will always be remembered for its sheer drama, but is Chad Radwell really dead on Scream Queens? It's hard to believe that the Season 1 returning character is really gone after a quick two-episode stint on Season 2, but there isn't much use for him now. Chanel will easily fall right back into the arms of Dr. Brock and as Chad said himself, all of his "frat bros" are dead and gone. So where does this leave Chad on Scream Queens if he isn't dead?
If you remember, last season on Scream Queens, we were led to believe that Boone (Nick Jonas) was dead, murdered by the Red Devil, but it was later revealed that the whole thing was staged and that he was in fact working with the killer of Season 1 of Scream Queens. It might be wishful thinking to consider that being the case this time around, for Chad, but regardless of whether or not he's really dead, it looks like we'll get to see him in at least one more episode this season.
According to IMDB, Powell is signed on to appear in another episode this season on Scream Queens, Episode 4, titled "Halloween Blues." The episode synopsis says that "Chanel attempts to make contact with the killer's latest victim." Obviously, this will more than likely be Chad, but if that's really how it's going to go down, then we can assume that Chad is dead on Scream Queens, no matter how much we want to deny it. Still, the idea of seeing Chad appear as some sort of annoyed, still self-entitled version of a ghost sounds amazing.
In memory of Chanel's would-be short-lived husband, let's take a moment to remember all of his most important one-liners that made Chad who he was.
Like His Appreciation For The Female Body
Also His Stipulations For Sharing His Bed With Another Man
He Was Never Humble
And He Never Minced His Words
Above All, Chad Was An Honest Man
And He Will Be Dearly Missed
Chad will likely be back for the Halloween episode of Scream Queens Tuesday night, but after that, we might be saying a final goodbye to the super wealthy, super shallow, and all around hot frat guy that we've all had a love/hate relationship with at some point. As in, you loved him and hated yourself for it.
So, is Chad Radwell really dead on Scream Queens? Honestly, his death seems like it was a necessary casualty to let us know how serious they are this season and that now, anyone can die.